Your slit lamp could be a complete digital dry eye assessment tool
Grafton Optical announce the launch of the DSLC200 Slit Lamp Imaging Module and the DEM100 Dry Eye Module –
effortlessly transforming your slit lamp into a complete digital dry eye assessment tool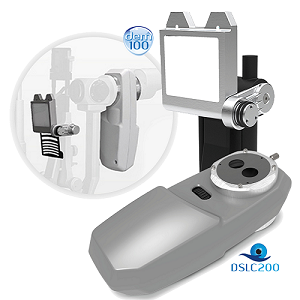 Turn your slit lamp into a complete digital dry eye assessment tool. The DSLC200 Slit Lamp Imaging Module and the DEM100 Dry Eye Module from SBM Sistemi, together provide a fully integrated and easy to use diagnostic dry eye platform.
Buy the DSLC200 Digital Slit Lamp camera alone or with the DEM100 dry eye module, for complete tear film analysis
Integrated software including DEQ5 questionnaire and symptomatology test
Compatible with a wide variety of slit lamp modules
Standard version software for DEM100 includes examinations for interferometry, tear meniscus, bulbar redness, meibography, blepharitis, NIBUT and anterior segment imaging
Intuitive software allows for quick and detailed examinations, providing easy to read 'traffic light' style result reports
The DSLC200 effortlessly transforms your slit lamp into a high-quality digital device. The module features a 3.1 megapixel camera with 1/1.8" sensor and high-quality optical image splitter to provide the highest quality images and videos. The optical system has an adjustable focus distance which can be set according to the users needs. The DSLC200 is compatible with most slit lamp models including those manufactured by CSO, Zeiss, Nidek, Topcon, Takagi, Righton, Keeler, Huvitz, Mediworks and Rexxam (formerly Shin Nippon). The DSLC200 is not mounted to the slit lamp eyepiece as other aftermarket cameras are. Instead, it uses an image splitter fitted between the eyepieces and magnification optics. This provides not only the best possible quality of image but allows the user to use the eyepieces normally.
Used in combination with the DSLC200, the DEM100 Dry Eye Module instantly transforms your slit lamp into a complete dry eye assessment tool.
| | | |
| --- | --- | --- |
| Examination  | DEM100 | DEM100 Plus |
| Interferometry | Ÿ | Ÿ |
| NIBUT   | Ÿ | Ÿ |
| Meibography   | Ÿ | Ÿ |
| 3D Meibography   |   | Ÿ |
| Blepharitis   | Ÿ | Ÿ |
| Blink quality   |   | Ÿ |
| Ocular redness classification   | Ÿ | Ÿ |
| Anterior segment imaging | Ÿ | Ÿ |
Tear meniscus                                                Ÿ                                Ÿ
Grafton Optical is one of the UK's leading suppliers of ophthalmic instruments, equipping and servicing independent and larger chain opticians as well as Britain's hospitals. It is also a long time Headline Sponsor of Opchat News providing a free news source written by ECPs for The Vision Sector