Eyecare and sight loss sectors, let's work together
It's time to work better together to support the 250 people in the UK that start to loose their sight every day!!
From a selection written by Visualise Training & Consultancy: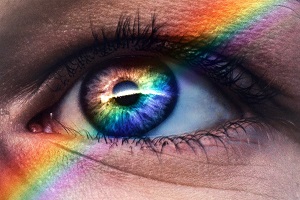 Eyecare and sight loss sectors- It's time to work better together to support the 250 people in the UK that start to loose their sight every day!!
Daniel Williams, man on a mission with low vision takes a look at how eyecare and sight loss sectors can work better together for the benefit of low vision patients like himself.
Service please

As an eyecare professional, you may not have a clear idea of what services exist in the locality or across the nation, what they offer, and how they can best help your patients. Practitioners need to be made more aware of their local vision rehabilitation or sensory impairment team, eye clinic liaison officers and local sight loss charities.
An initial strategy for improvement would be to look at whether a standardised national low vision pathway could be set up, supported by local eye-care practices, the local hospital eye service and sight loss charities.
Professionals could refer directly through an online platform to make it quicker and easier and ensure patient data was safe.
More people would then be given a referral for a low vision assessment, rather than the present system which differs according to where you live. A register of local eye care practices could also be kept by sight loss charities when a practice conducts their own private low vision service.
Volunteer initiatives exist at almost all local sight loss charities and they will welcome offers of support as well as suggestions for creating awareness. If you are holding an event, invite hospital eye service staff,
ECLOs and colleagues from local sight loss charities. This would bring together the three groups, comprising high street eye care, hospital eye services and the sight loss sector, and facilitate relationship building.
Train to gain

Devising fundraising activities to help local charities is another possibility for eyecare professionals, inviting staff and the wider public.
Appointed staff could be on hand on the shop floor to link patients to sight loss services. Staff would also undergo sight loss awareness training, including how to guide a person with low vision.
Working with other opticians in the area, training events and workplace sessions could be run at in-house training centres or other venues; they could include awareness training for optometrists, opticians and ophthalmologists, and be promoted to staff via their internal communication channels creating higher attendance figures. Local sight loss charities could also have a presence at training events.
It's a bit of a mystery

The deployment of mystery shoppers can be a great help to ascertain how low vision friendly a practice is; from this an improvement plan can be devised, usually for simple and inexpensive changes. Local sight loss charities can facilitate this.
Optical professionals need to be informed about what an ECLO is and what they offer. Optical magazines and journals could run constructive articles. ECLOs could be invited to conferences to give presentations and circulate leaflets. Information from local hospitals can be pooled with sight loss charities.
All this can begin at university level which would make it all so much easier. Students in optical courses could be given an insight into what is available, before they qualify. A compulsory part of undergraduate courses should be to visit their local sight loss resource centre to find out what is available.
It would also represent a big stride forward to see optometrists and High street eyecare professionals offering work placements to people with sight loss. This would speak volumes, give huge reassurance to patients, whilst raising profiles, reputations and awareness, as well as helping a person with low vision on the career ladder.
Show me the way

Non-qualified staff such as receptionists can be brought into this sphere of understanding. As a High street optician, get to know your local support services and then direct visually impaired people to their local sight loss charity, which will also raise your profile.
Accessibility to practices can often be difficult for people with low vision, as they struggle to navigate around obstacles, coping with colour schemes and lighting. Consider a review of how layout can be made more accessible to blind and partially sighted patients. Not forgetting to send out accessible communications to ensure patients turn up to their appointments. .
You could also display leaflets, booklets or posters in your premises giving contact details and websites for local low vision support organisations and charities, and support their social media pages. Perhaps one standard leaflet could be produced, customised by each local sight loss charity and branded by the larger optical companies. More awareness could be created, too, for the existing Sightline Directory.
It's a good idea to check that any leaflets displayed in your practice are in an accessible format: large print, digital formats and display screens with audio. Emails, texts and phone calls are good alternatives and preferences could be detailed in a patient records system.
A collection box on the counter is always a help and you could select a charity of the year, and promote this.
Two sides to every coin

Local sight loss charities must also reach out to opticians. They could improve their marketing, arrange face-to-face meetings, visit practices or host open days and invite opticians to attend or to sponsor events.
Extending opening hours could also attract optical professionals to resource centres, enabling them to attend after work. Once opticians understand what is available and how to access services, a much greater engagement can be forged.
Look beyond the eyes and see so much more…

Visit this page to find practical solutions of how you can work better together;
https://www.visualisetrainingandconsultancy.com/seeing-beyond-the-eyes/