Eye Heroes is the UK's first child-led campaign to fight avoidable blindness. Children are trained through volunteer-led interactive workshops in schools and after school clubs to become eye health champions, and inform people in their communities about eye health and the benefits of regular eye tests.
The workshops are run for free by local volunteers, marrying the science of eye health with the pressing need to raise awareness in a fun and memorable way.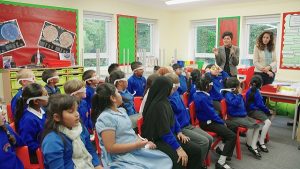 Eye Heroes workshops are currently aimed at children aged 8-12 and include games, videos, role play and more.
Children are uniquely placed in society with the ability to overcome barriers such as language, problems with mobility, perceived costs associated with eye tests, anxiety and the stigma that can be attached to sight loss.
Harnessing this potential to spread powerful messages within diverse communities,
Eye Heroes trains children to inform hard-to-reach individuals about eye health, who are often at greater risk of avoidable sight loss.
Eye Heroes workshops are now running in schools across the UK.
We are looking for:
• volunteers to conduct the workshops in the UK.
• introduction into schools by parents, governors and teachers to arrange for workshops.
• speaking opportunities to raise awareness of eye health.
• taster workshop opportunities at conferences to show how professionals can engage with their local communities to promote eye health awareness in a fun and interactive way.
• sites at conferences to display Eye Heroes material and literature.
Get in touch if you want to get involved!

| Twitter: @EyeHeroes
Contact: info@eyeheroes.org.uk
Dr Yusrah Shweikh, co-founder
Manjul Rathee, co-founder