I got more help at the cinema than the optician!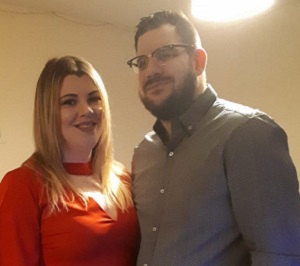 Emma and Alan share their experiences of visiting their opticians in the UK and believe their cinema provides more support for people with sight loss. Emma feels there is a true lack of appropriate training given to opticians to empower them to support patients with visual impairment.
If you're experiencing difficulties with your eyesight, the bearer of that difficult news may well be an optician. As you sit there in front of an eye-chart, struggling to see some or all of the letters, the stark reality that you're about to lose your sight could be about to hit you … but at a time when you most need information, advice and support, increasing evidence suggests it isn't always available.
Alan is 34 and lives with his partner Emma, in a newly-built house in Runcorn. He has been registered blind now for some ten years. In his early 20s, Alan went to an optician who told him there was something wrong. After six months of tests, Alan was told by a consultant he had Stargardt disease, a form of macular dystrophy, and that he was going to lose all his sight.
This was the last time Alan drove. The consultant told him he would have to stop driving immediately. "It's a degenerative condition, said Alan. "At the start, it felt like nothing was wrong. As time has progressed, it's got severely and steadily worse. Now, it's considerably bad and I'm struggling."
Despite Alan's deteriorating vision, he has continued in full-time employment: "I was actually working as an upgrades and retention advisor for O2, as my eye condition progressed, I was struggling to do my job … struggling to use the systems, so through my employer, we've been able to redeploy me into a data analyst role where I'm able to do a lot more stuff. As a result, I'm not tied to a customer; I can help and support the teams instead. I'm getting quite a lot of reward and confidence from that."
Outside work, Alan and Emma both enjoy going to the cinema. Emma takes up the story: "With the cinema, you know you're going out … it's a date night … it's nice, cheap and cheerful. When we were going into the cinema, we were met with very friendly faces at all times, and we didn't know that there was an audio-description headset – that was a big step in the fact that you enjoyed going out more. Before that, Alan used to come to appease me because I like to go and see all the films, but he didn't have that much enjoyment out of it. That's given Alan a new lease of life and has enabled him to join in on that activity."
Alan continued: "It's totally changed my whole experience. I walk in, they come over with the (audio-description) headset and they're constantly checking I'm getting full use of the cinema, making sure I'm getting all the support I need. They'll even take me to my seat if I'm struggling; it's brilliant, I don't even have to ask them, it's really good."
In contrast, Alan is less positive over the help he received from the optician: "The optician didn't really give me anything … they just sent me to the doctor's; they just said something's wrong. They didn't tell me what was going on, what was going to happen … they just said something's wrong and I'm going to send you to the hospital."
Looking back on his experience at the optician's, Alan has clear views on how the service he received could have been better: "Firstly, they could have given me a 'heads up', letting me know that there was something seriously wrong. At that point, I think they should have given me some support rather than just expecting me to sit there and have to wait for a hospital appointment. I was left not knowing what was going on … the fear of that."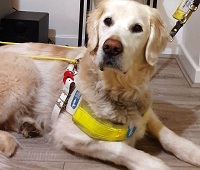 Emma too feels that the optician could have shown more compassion: "While the staff were quite friendly, I don't think they knew how to support a person who is losing their sight. They couldn't provide information in alternative formats … I can get a letter in braille, large print or even on an audio CD from my telecoms provider, but not from the optician. The staff at the cinema on the other hand, saw Alan's guide dog and just dealt with the situation … they seemed to know what to do."
Concerned that Alan was slipping through the proverbial net, Emma took matters into her own hands. With the help of Google and LinkedIn, she came across Daniel Williams, who runs a company called Visualise Training and Consultancy. Among other things, Daniel trains opticians on the services and support that are available to people who are experiencing eyesight difficulties.
Emma said: "I was scrolling through LinkedIn and found Daniel Williams. I saw Dan's guide dog and it hit off from there. I looked at Dan's profile and what he did and thought wow, this is absolutely fantastic. We had just been trying to get on with things; not realising all this support, guidance and help were available.
"I then had a 45-minute phone call with Dan, and he was absolutely fantastic. By the end of the conversation, it felt like I'd known Dan for years. Dan spoke to me on a personal level. He asked me about what support we had had and what we feel we needed. Dan then listed off ten organisations specifically in this area, where we can go and get support. It was simple things like just going for a pint, or meeting people who are in our situation.
Emma added: "It didn't end there. Dan's phoned me back and he's pointed me in the direction of places where, not only can we get support and advice, we can take part in recreational activities as well. This just wasn't on our radar because getting out there can be difficult.
"These are organisations that I couldn't find online or through the opticians or ophthalmologists; and it took reaching out to someone who has vision loss to point us in these directions. And since that conversation, it's all taken off from there."
And Alan agrees with Emma, that conversation has opened many doors: "It's given me a bit of confidence to actually go out to do things; get help and get advice. I think sometimes the best people to get advice from are people like Dan, who are going through a similar situation.
"I'm feeling a lot fitter now. I'm now going out running with a sighted guide and am contacting people to go and play other sports. When I was diagnosed, I got quite a lot of depression and anxiety … thankfully, things are very different now."
Alan's story does not come as a surprise to Daniel Williams. Dan has the eye condition retinitis pigmentosa and started to lose his sight at the age of 8. In 2014, Dan set up Visualise Training and Consultancy to advise service providers and employers on accessibility: "Alan's story is rather familiar. I'm a qualified eye clinic liaison officer and rehab assistant, and sadly, I've heard this many times.
"While opticians are very good at the technical side of their work, I realised they didn't possess the knowledge to provide the wider information, advice and support that people need when they're beginning to lose their sight. This is why I set up the Seeing Beyond the Eyes CET training workshops for opticians and optometrists.
"The course educates eyecare professionals on what additional support and services are available for patients with low vision and how to refer them to organisations in their area that provide support to visually impaired people.
"I was glad to have been able to help Alan and Emma. The truth is however they shouldn't have needed to come to me to find out about the support that's available on their doorstep. The optician should have been able to give them that information."
As for Alan, things are very different now: "I'm feeling very good about the future. I've been able to get in contact with quite a few different communities out there; I've both given and got support off visually impaired people which has increased my confidence and activity."
Eds Viewpoint
This is the main reason we publish papers we receive from all sight care organisations as well as Visualise Training, to assist patients and primary care providers alike on this clinical briefing section.