Visionix and 20/20NOW announce a long-term strategic alliance
Visionix and 20/20NOW recently entered a strategic alliance to bring quality live synchronous tele-optometry eye exams closer to more patients in the United States.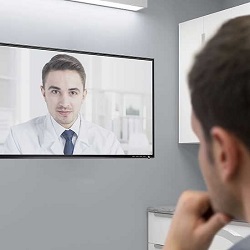 Visionix have been partnering with 20/20NOW since 2018,
and it has been a pleasure to work with a company who shares our passion in helping Eye Care Professionals grow and scale their business and improve access to care for patients. Together, we have helped several multi-location clinics offer comprehensive eye exams at scale. With this strategic move, we can offer the option to grow your practice with tele-optometry and solve issues with Optometrist coverage to better serve your community.
Innovation to unlock your potential in tele-optometry!
20/20NOW has a strong history of helping eye care practices successfully launch and operate tele-optometric services in over 30 states―with consistently high customer satisfaction reviews.
What's new for Visionix customers?
We are still your direct access to any Visionix product, and Ciara Guglielmi is still your Visionix representative for in-clinic technologies. However, for those who would like to explore an alternative business model, we now have telehealth experts working in tandem with our Visionix team to understand state, legal and operational considerations to establish a telehealth-enabled clinic.
If you are considering tele-optometry, talk to us. With the strength of two highly experienced teams, we can help you launch your modern, multi-location optical.