The complete Blackfin Aero range in a single box
Colour is the style signature of the new Blackfin Spring Summer 2022 models.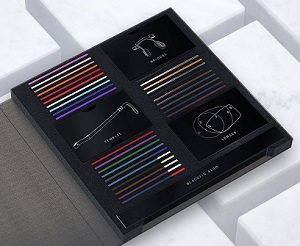 Colour also lights up the Blackfin Aero series – the unique, sleek rimless collection that brings a fresh look to design and functionality.
The new release adds 10 colors, for a total of 30 available color variations, some two-tone, not to mention the polished and matte finishes. A complete, ever-evolving color palette that emphasizes the cutting-edge Blackfin tech skills ‒ each individual element of its eyewear is produced in-house at the sustainable Black Shelter factory.
The updated Blackfin Aero series is currently being showcased at sales outlets in a special box that contains the various parts of the frame: 30 lens shapes, 2 different bridges – one geometric and one retro – each in 2 sizes, 2 temples of different lengths and 30 color options. With this new kit, opticians can now show the customer the entire collection in its many combinations, completely personalizing the buying experience.
Each AERO style is made with a 0.7 mm thin sheet of beta titanium for the bridge ‒ to guarantee absolute frame stability ‒ and 0.5 mm for the temples, to ensure flexibility and comfortable fit. Unique in shape but traditional in its micro-mechanics, the hinge lends an air of solidity and can be easily adjusted, thus combining understated, minimalist design with the bold, recognizable features of the Blackfin brand.