Summer OSA Meeting draws Industry to Belfry
UKCA marking, new UK regulations, sustainability and the role of digital health solutions in optics were the focus of the Optical Suppliers' Association – OSA – summer meeting at the Belfry last week, which drew together all aspects of the optical supply chain.
Frames, lenses, labs, finance and practice support, diagnostic technology and practice equipment providers were keen to hear the latest from the OSA Committee.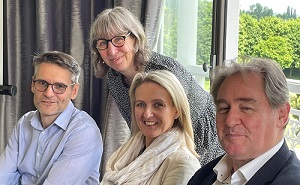 OSA members Jayne Abel of Eyespace Eyewear, Julian Wiles of Performance Lenses, and Andy Hepworth of Essilor Luxottica were joined by policy consultant Ann Blackmore for a briefing, and open forum discussion, on creating a carbon neutral supply chain for optics.(pictured above)
"We are currently paddling our way through plastic in our rivers and seas, clogging up our planet.  This is on our watch, I tell myself, but we do have the power to change things," said Jayne Abel.
A three year campaign to ensure that Eyespace becomes sustainable has brought many insights –
"We are driven by an informed awareness of the climate crisis and our responsibility as business owners to be custodians of our industry, monitoring and managing, its impact on the natural world. Here at OSA we are empowering our members through a 'Green Charter' with structured aims to put greener practices into place throughout every level of their business for a brighter, more sustainable, future," added Jayne.
Stressing that there is no "quick fix" but that informed changes can make a radical difference, the OSA team is aiming to support the optical sector to drastically reduce single-use plastic and to convert to 100% biodegradable or 100% recycled alternatives. Citing the 2-3 billion frame bags currently made from single-use plastic each year, and closer to home, the 5m tonnes of plastic used in the UK each year – with 40% being single-use plastic – Jayne said the OSA ambition is for the industry to achieve carbon net zero ahead of COP26 targets.
"32% of all plastic ends up in our oceans – we have to reduce, reuse and recycle. Everything we do filters through to practices and ultimately to the patient.  We will all be scrutinised by our customers if we don't act.  The question is – 'at what point in the journey is your business?' Why on earth wouldn't you chose sustainability?"
As an example, the question of producing printed product catalogues was raised with delegates told that the footprint of a catalogue print run could be measured in the disappearance of a few football pitches in terms of tree felling.
Ann Blackmore who has worked in optical sector policy and public affairs for eight years, briefed delegates on impending legislative changes at both UK and EU level, the use of CE and UKCA marking, and the registration of medical devices, which includes spectacle frames and lenses –
"We may no longer be part of the EU but Europe is our biggest trading partner and so we need to ensure that new UK regulations enable us to work easily with this market. And, of course, those who export to Europe still need to follow EU regulations. For example, the European Green Deal and Circular Economy will empower consumers to make informed choices.  Businesses will have to be able to substantiate green claims and account for the environmental impact over the full life-cycle of a product."
The rapid rise of digital health solutions, including mobile health apps, technology used in optical practices, and the future role of AI, was also discussed and the implications for implementation –
"Most health technologies are regulated as medical devices, but the bigger issue may well be regulation that governs how health care professionals can use those technologies. We need to ensure that regulations enable, rather than inhibit, the use of new technologies," stressed Ann.
OSA Chair, Andy Hepworth praised the work of the group –
"We have a great knowledge resource at OSA. We are here to provide advice and information about impending legislation for our members to ensure the smooth running of their businesses.  There are a lot of changes coming and the OSA is here to ensure that new regulation is introduced in the most manageable way."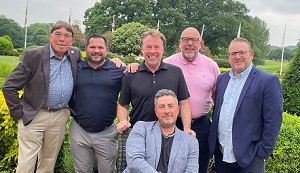 It was not all work at the Belfry – a team took to the Derby 18 hole course with Colin Hurst of Cosium, having shot 86, taking first place. Golfers are pictured left to right Bob Hutchinson, Primary Health Net; Karl Jeebaun, AOS; Jeff Landucci, AOS; Adrian Richards, Mainline Instruments; James Peakman, Rodenstock.  Seated is Colin Hurst of Cosium
New OSA member, Jeff Landucci of AOS praised his first event with the group –
"As a new, innovative, software company this is a great environment to meet and to find out what is happening in the industry.  The conversations amongst friends help us to understand the new future."
Simon Hawkins of Mainline agreed –
"It is a great opportunity to talk to competitors and to find that we have the same challenges.  We always enjoy the conversations over breakfast as much as the great presentations at these events."
Find out more about joining the OSA by emailing Marianne mmacritchie@osa-uk.co.uk
OSA are Headline sponsors of your free Opchat News and you can read more about them here as well as link to their web page