Heidelberg Engineering introduces new clinical features for its anterior segment platform ANTERION
Heidelberg Engineering announces the release of new clinical features for ANTERION® in European markets. With the platform's new clinical tools, the company aims to empower clinicians in the areas of cornea diagnostics, refractive surgery planning, and biometry.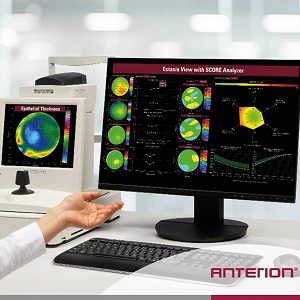 ANTERION is Heidelberg Engineering's anterior segment solution combining biometry, IOL calculations, cornea diagnostics, and anterior chamber metrics based on high-resolution swept-source OCT images. Since the introduction of ANTERION in 2018, the company has continued to develop and release innovative tools to expand it into a truly 'all-in-one' device for the anterior segment.
With a simple software upgrade, existing ANTERION customers can now add epithelial thickness measurements, intuitive visualization for the assessment of corneal ectasia, and automatic anterior chamber measurements to their device; while for new customers, the clinical tools are already integrated into the comprehensive platform.
Evaluation of corneal epithelial thickness with reproducible measurements
With the optional Epithelial Thickness Module, clinicians receive all information required to thoroughly assess the epithelial thickness of their patients' eyes. The parameters and color maps can assist in refractive surgery planning and treatment control, ocular surface evaluation, screening for corneal ectasia, and other diagnostic areas. The new module for the ANTERION Cornea App also generates thickness maps and measurements for the residual stroma, providing further insights into patients' corneal health.
More objectivity in ectasia assessment
The ANTERION Ectasia View is a new comprehensive toolset that aids in the assessment of ectatic changes in the cornea. The diagnostic dashboard combines all relevant information on one page. Clinicians can evaluate the most important tomographic maps and parameters at a glance and track the details of progression with intuitive visualization tools. The dashboard also includes the SCORE (Screening Corneal Objective Risk of Ectasia) Analyzer, a unique analysis tool for keratoconus and other ectatic diseases. SCORE has been developed by Dr. Damien Gatinel and Dr. Alain Saad, from Paris, France. It combines multiple corneal indices that describe the magnitude of corneal steepening, thinning and asymmetry, helping eye care specialists assess the probability of ectatic changes for their patients' eyes.
"The incorporation of the SCORE Analyzer into the ANTERION Cornea App provides a modern method for screening for keratoconus and other ectatic diseases – allowing for a simple, efficient, yet objective assessment", says Dr. Gatinel.
Automatic metrics to streamline anterior chamber assessment and biometry
Adding to the powerful Metrics App, ANTERION can now automatically detect the scleral spur, an important anatomical landmark in the anterior chamber. This allows for the automatic calculation and visualization of many biometric parameters. Clinicians can benefit from improved workflows and precise anterior chamber parameters.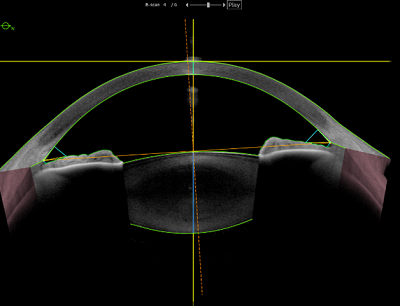 ANTERION metrics that are generated based on the location of the scleral spur
"We are excited to present these new clinical tools to the ophthalmic community", says Steven Thomson, Clinical Director Anterior Segment at Heidelberg Engineering. "With this update, ANTERION can support eye care professionals in multiple clinical disciplines and build on its strength – superb image quality that contributes to advanced IOL power prediction methods and corneal diagnostics".