Successful OSA Summer Member Event reported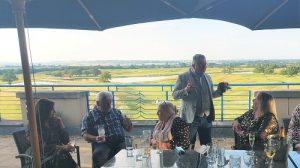 OSA members gather in Oxford for their first major event post pandemic.
'This is our inaugural Members Summer Meeting' OSA Chairman Stuart Burn told attendees at the Oxfordshire Hotel on 23 June.
The informal event was the Association's first physical meeting since the pandemic and offered members the opportunity to enjoy a round of golf or a spa treatment along with dinner and drinks that evening and – most crucially after a tough 16 months – the enjoyment of socialising together and networking again.
A short meeting took place the following morning where all attendees were updated on the progress the OSA has made recently and its plans for the future.
Stuart said 'It's been a pivotal 18 months for OSA. The Board have completely transformed the organisation into a robust, forward thinking and progressive Association. We wish to continue along these lines by engaging with our colleagues in the optical world and by promoting, assisting and supporting optical suppliers across the UK.'
OSA Vice Chair Andy Hepworth added 'It was great to update members on the ongoing work of OSA. This event was the perfect opportunity to do so and it was simply wonderful to finally catch up 'in person' with some great people'.
The next major meeting of OSA members will be the AGM and luncheon which will be held on 10 December 2021, with the location to be confirmed soon.