HOYA launch Sensity Fast, the fastest light adaptive lenses available
HOYA welcomes a new lens into its Sensity Family, Sensity Fast. Sensity Fast are the fastest fading light adaptive lenses available1, ideal for previous unhappy photochromic wearers or first-time wearers looking for a speedy fade back time.

Sensity Fast will be available in the UK and Ireland from 17th April 2023.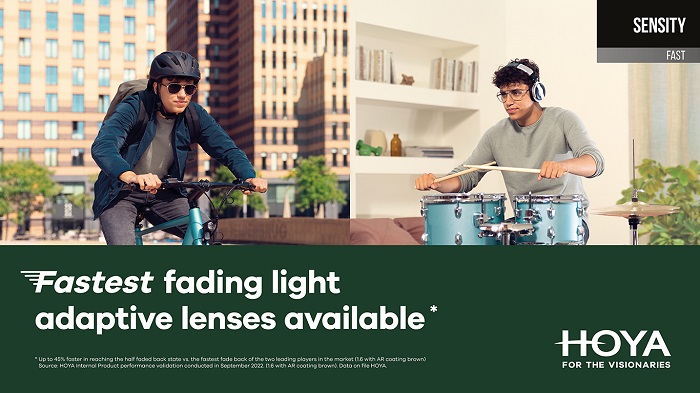 By adding Sensity Fast, the HOYA Sensity family has grown to meet the needs of more patients. With full HOYA photochromic technologies, each product is specifically adapted to meet a variety of wearer needs. Sensity Fast offers active patients' photochromic lenses which fade back to half clear in seconds when moving indoors2 with the confidence of full UV protection whatever the weather.
HOYA asked 2,250 consumers and 20% of photochromic non-wearers observed that fade back is slow. And 11% even said that this would put them off purchasing photochromic lenses. The research also showed the vast majority of photochromics wearers are satisfied with their lenses, however people new to photochromics are often reluctant to try them3.
Once patients try photochromic lenses, they are likely to stay loyal to the product.  In fact, 84% of wearers would recommend them to their friends3. To help more patients, experience and enjoy the benefits of photochromic lenses, HOYA created Sensity Fast: the fastest light adaptive lenses2 to satisfy photochromic skeptical patients who may have been put off by previous experience with slow fade-back speeds.
"There are many photochromic lenses on the market but until now something has been missing," said Alexandre Montague, CEO, HOYA Vision Care. "With Sensity Fast we developed a lens that many Eye Care Professionals were asking for, one that has a rapid fade speed making the move from outdoors to indoors a seamless experience for wearers-perfect for younger generations and people on the go. They will just love it: it is so fast!"
HOYA have expanded their catalogue help support independent opticians meet the needs of their patients. The Sensity Family now includes Sensity 2, Sensity Dark, Sensity Shine and Sensity Fast. To help ECP find the right Sensity product for their patients' individual needs and lifestyles, HOYA has created a questionnaire to match patients with their perfect Sensity option for them.
Marketing materials and demo lenses will be available to order from 17thth April via the HOYA Hub.
Contact your local HOYA Business Developments Manager for more information and product training, so your team can offer Sensity to patients with confidence.
References
up to 45% faster in reaching the half faded back state vs. the fastest fade back of the two leading players in the market ( 1.6 with AR coating brown) Source: HOYA Internal Product performance validation conducted in September 2022. (1.6 with AR coating brown). Data on file HOYA.
Takes less than 50 seconds to reach half faded back state starting from 76% (or category 2) max absorption at dark state on 23 °C. (1.6 with AR coating Gray)
Harris Interactive, 2018 study