Outside Clinic to recruit 50 optometrists following record growth


• Leading at-home eye care provider plans to grow its 75-strong team of optometrists by two-thirds over the next 12 months
• It's on track to achieve a record £30m turnover following a 50% rise in demand for its domiciliary services – with owners, Optimism Health Group, aiming to create a £100m turnover business in next five years
• To support the recruitment drive, it has created a series of short videos spotlighting the benefits and rewards that come with a career in domiciliary eye care

OutsideClinic, the UK's leading provider of home eye care and hearing services, is launching its biggest ever recruitment drive to find 50 optometrists over the next 12 months, following a 50% rise in demand for its services since the start of the year.
The Swindon-headquartered company plans to grow its 75-strong optometry team by two-thirds (to 125), improving both its reach and appointment capacity. In addition, the company also plans to recruit a further 13 people to a variety of roles within its support teams.
The move follows a huge increase in demand for its at-home services amongst the over 65's market it primarily serves, with OutsideClinic on track to achieve a record £30m turnover this financial year.
Demand for the company's services, which see its clinicians conduct an average of 100,000 eye and hearing tests in patients' homes each year, has been fuelled by a growing over-65's market, with the Covid-19 pandemic resulting in many older people preferring to book home visits rather than travel to their high street optician.
With projections forecasting that people aged 65 and over will account for almost a quarter of the UK population by 2038¹, and the home healthcare market expected to grow by 6.4% from 2019 to 2026², the company is priming itself for further growth. Its owners, Optimism Health Group, aim to turn OutsideClinic into a £100m turnover business over the next five years.
To support its recruitment plans, the company has created a series of short videos, which you can watch here, spotlighting the work its optometrists do and the many benefits that come with a career at the forefront of domiciliary eye care. These include not having to work weekends like high street opticians and access to the very latest, state-of-the-art equipment and peer support.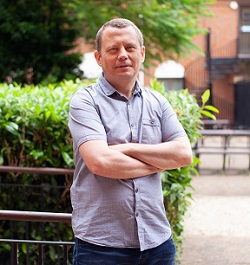 Commenting on the recent growth and recruitment drive, OutsideClinic's managing director, Richard Gibson, pictured right, said:
"Demand for our industry-leading optometry services has never been greater, with our talented team delivering clinically excellent eye care in the homes of tens of thousands of people every year.
"With the over-65 population set to grow significantly, we anticipate demand for our domiciliary optometry services will increase substantially in the coming years and it's vital we're able to meet this, while continuing to deliver the gold standard eye care our patients have come to expect from us.
"Our existing clinicians tell us that domiciliary eye care with OutsideClinic is more interesting and rewarding than anything they've done before, so we're delighted to be in a position where we're able to offer so many new opportunities to become part of our talented optometry team.
"We promise industry-leading technology, unrivalled flexibility and the time and support needed to provide a service that makes a genuine difference to the lives of the people that need us the most."