New MATERIKA COMBI – Avant-Garde Materials and Designs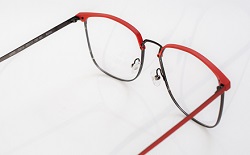 LOOK–made in Italia launches the new COMBI by MATERIKA. These innovative high-end optical frames are the ideal combination of modern design and avant-garde materials, for eyewear with a discretely understated vibe, interpreted in a sophisticated, timeless style.
The series comprises three optical frames – a women's panto, a square unisex and a men's double-bridge – featuring the blend of two ultra-modern materials crafted through the company's ongoing research.
Most of the frame is in Xinox hypoallergenic steel, while the top rim is in Alumix an exclusive, totally recyclable, high-tech, latest-generation alloy of magnesium and aluminum. The color options highlight the difference between the two materials, lending a unique touch of personality to the frames.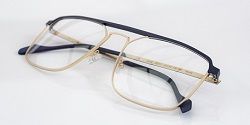 Materika encompasses the LOOK–made in Italia high-end products that cater to a discriminating, sophisticated audience, connoisseurs of a style that seeks individuality even in cutting-edge details.
Each Materika frame is crafted based on the most innovative production standards but with an artisanal approach, in accordance with the values of authentic quality and Italian style deeply ingrained in the LOOK–made in Italia DNA.
All of the COMBI by MATERIKA frames are ultra-lightweight, hypoallergenic, elastic and durable; they are also traceable because they're made entirely in Italy by LOOK-made in Italia.