New CPD accredited education series launched to help optometrists to discover domiciliary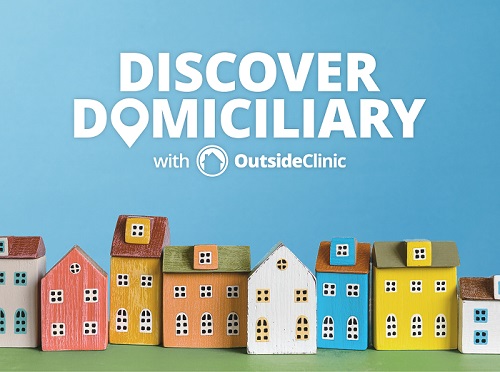 The Discover Domiciliary series
Optometrists interested in learning more about the domiciliary sector are being encouraged to sign up to a new CPD accredited online education series launched by OutsideClinic, the UK's largest and fastest-growing provider of home eye care services.
The Discover Domiciliary series comprises four free webinars, three of which are CPD accredited, aimed at providing optometrists with a 360-degree view of what it's really like to work in the sector – which a recent survey by the GOC showed has higher satisfaction levels than any other area of optometry.
The company is launching the series as it looks to address a lack of awareness and the widespread misconceptions about the sector that exist amongst optometrists – with many having had no exposure to domiciliary as a result of it not being included in university undergraduate courses until a recent OutsideClinic initiative.
The series will launch with a CPD-accredited (1 point) 'Introduction To The Exciting World Of Domiciliary Optometry', which will be broadcast live at 7pm on Thursday 3rd November. Presented by experienced optometrist Simon Raw, the hour-long session will cover how modern domiciliary optometry is conducted, spotlighting how home eye tests are done and the mobile equipment and record keeping systems that are used, as well as the communication skills required to deliver a great patient experience.
This will be followed by a second webinar, 'High Street vs Domiciliary Optometry: The Key Differences', which will be broadcast on Thursday 17th November at 7pm.
This hour-long session will see optometrists from the company spotlight the key differences, providing a clear picture of what it's really like to work in the domiciliary sector, from the types of patients that are seen through to the testing equipment that's used and the referral process.
A third CPD accredited webinar (1 point) on 'OCT – an overview and update' will take place on Thursday 24th November at 7pm, followed by a fourth on Thursday 15th December at 7pm which will look at 'Dispensing In Domiciliary', with 1 CPD point also available for this session.
Nick Wingate, director of professional services at OutsideClinic, said: "Domiciliary eye care was recently cited as the most satisfying area to work in optometry and yet many optometrists simply aren't aware of what it entails or the broad range of career opportunities that exist and the benefits that come with these – especially if they have spent their whole career working on the high street.

"As the UK's largest provider of home eye care services, we're on a mission to change this as we look to recruit many more optometrists over the next 12 months to meet growing demand for our services and ensure that those most in need of eye care aren't left behind.
"Our Discover Domiciliary education series will lift the lid on domiciliary eye care, providing interested optometrists with the perfect opportunity to hear from and speak to practitioners in the sector to learn in a CPD accredited capacity what it's really like to work in the fastest growing area of optometry."
The series is the latest initiative by the company to address a lack of domiciliary awareness amongst optometrists, building on the work that it is doing to engage universities through the delivery of a lecture and live-streamed domiciliary eye examinations to future practitioners – which optometry students at the University of Bradford voted as their favourite module of the year in a recent poll by the university.
To help plug the optometrist gap in the sector, the company recently launched a joint venture partnership model, further strengthening the already broad range of career opportunities it's able to offer. The partnerships provide ambitious, committed and patient-centred optometrists with an opportunity to combine a rewarding career where they deliver genuinely life-changing care, with all the benefits that come with owning their own company – with guaranteed client acquisition, comprehensive marketing support and ongoing business development all included in the package.
To learn more and sign-up to the Discover Domiciliary webinar series, visit outsideclinic.co.uk/discover.