Maui Jim introduces two new female models, Lychee and Mamane.
Once again inspired by the world of nature, the names of the new models – Lychee and Mamane –make reference to the wonderful Hawaiian nature. Together with the classic tones of black and havana, softer and spring-like colors complete an offer suitable for all female tastes.
LYCHEE

With SuperThin Glass lenses, Lychee delivers sharp optics in a dramatic cat eye. A reinterpretation of the classic, the accentuated upturned corners mirror the pointed leaves of its namesake and add complementary framing to a variety of facial features. Although petite, Lychee aspires confidence with PolarizedPlus2®, promising to protect your eyes against 100% of harmful UV in contemporary style.
Available in four colours:
Translucent Light Pink, Black Gloss, Black Gloss with Tokyo Tortoise and Tortoise
MAMANE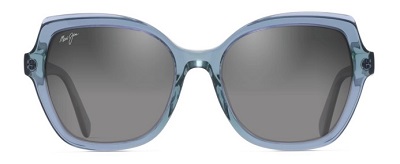 Inspired by the multifunctional Mamane plant, this style insets PolarizedPlus2® lenses in a high density acetate framework for purposeful versatility with alluring details. Mamane creates subtle dimension with a carved frame front to mirror the fold of the flower petals, while the lenses expand this style presents a meticulous high-fashion aesthetic.
Available in three colours: Teal, Black Gloss and Tortoise
Maui Jim sunglasses were born on the beaches of Maui; designed to protect eyes from the harsh rays of the island sun. Today, Maui Jim is the world's fastest-growing premium eyewear company and is sold in more than 100 countries.