Eye science meets beauty in a world-first from Positive Impact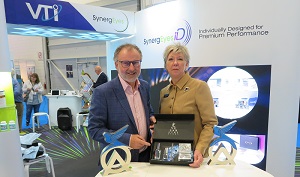 Positive Impact previewed a UK-exclusive launch at 100% Optical with the world's first optocosmetics, Eyes Are The Story makeup and skincare uniquely focused on eye health.
The latest addition to Positive Impact's best-in-class Dry Eye Zone portfolio, Eyes Are The Story products take the company into an exciting new area for vision care.
Clinically tested and validated, the Eyes Are The Story formulas were specifically created for dry eye, contact lens wearers and for those with sensitive eyes. The optocosmetics are endorsed by leading innovators in the field of vision health.
Blurring the lines between beauty and pharma, founder Amy Gallant Sullivan explained: "We're expanding the toxic beauty conversation to preserve the homeostasis of the eyes."
Having worked in the field of ocular surface disease for 20 years, Ms Gallant Sullivan discovered an unmet need for eye-friendly products to address the burgeoning vanity-inspired wellness trend.
"The eyelid skin is the thinnest in the body and the eyelids function to protect the eyes. Beauty products can be harsh to the delicate eye areas and cause damage to the lid, lashes and eye. Together with Positive Impact, we are taking strides in the beauty world with a significant focus on eye health," she said.
During 100% Optical, samples of the Eyes Are The Story launch collection were shared with show visitors. Mini mascaras, eyeliners, facial cleanser, eyelid towelettes and eye serum accompanied the preview and were celebrated with gin-fizz. Speakers at the exclusive preview included optometrist and dry eye specialist Sarah Farrant, who has been trialing the products with patients for several months. London-based ophthalmic and oculoplastic surgeons Rachna Murthy and Jonathan Roos, creators of Purifeyes, also highlighted the benefits of the new range and emphasised the importance of good eye health and hygiene.
Positive Impact's managing director, Nick Atkins, said: "Eyecare professionals spend time and money taking care of their patients, but their patients previously covered their eyes in harmful make-up.
"We are delighted that this unique range will be exclusively available in the UK through Positive Impact from June. Coupled with Purifeyes, a propriety eyelid hygiene spray that maintains lash health, Eyes Are The Story products are a must addition for an eye-safe beauty routine.
"Positive Impact gives eye care professionals the solutions so that dry eye, contact lens and sensitive eye patients can comfortably use cosmetics again," he concluded.
The Eyes Are The Story range can be seen on the Positive Impact stand 35 at the College of Optometrists conference at Telford International Centre on June 19-20 and at iDay on Monday 4 July at the National Motorcycle Museum in Solihull.