Entrepreneur Academy launched to support health and social innovators across West Midlands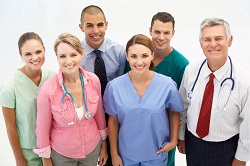 The Meridian Health and Social Care Entrepreneur Academy is launching this month (April 2021) which aims to support health and social care innovators across the West Midlands.
The Academy is being led by West Midlands Academic Health Science Network (WMAHSN) and will be supported by the Black Country and West Birmingham Sustainability and Transformation Partnership (STP). The new Academy will see a programme of activities launched to identify entrepreneurs within health and social care and develop their healthcare solutions, while addressing current priorities within the West Midlands.
The Academy has two entry points; an intensive, free boot camp that allows attendees to explore entrepreneurship and develop transferable skills. This will be open to all health and social care professionals within the Black Country & West Birmingham STP and registration will be managed through Eventbrite.
An additional six-month, on-the-job workforce development programme will also provide health and social care professionals with the commercial skills, knowledge and experience needed to successfully develop and spread innovative solutions to the health and social care challenges being faced across the West Midlands. Applications will be managed through Meridian https://meridian.wmahsn.org and will be open from 1st April 2021.
Tammy Holmes, Head of Delivery (Innovation and Commercial) at WMAHSN and creator of the Entrepreneur Academy, says: "There is no better place to find new ideas and enthusiastic individuals than in the organisations at the forefront of delivering patient care and looking after our communities."
"WMAHSN is pleased to be working with the Black Country and Birmingham STP in offering both clinical and non-clinical healthcare professionals, from the NHS and from valued social care organisations, the chance to develop their ideas and confidence around healthcare innovation, to really make a difference in the region.
"Helping people achieve their dreams and making their ideas a reality is something I'm personally passionate about. I'm excited to meet the NHS entrepreneurs of the future."
The academy will launch April 2021 with the first Meridian Entrepreneur Boot Camps taking place in May 2021 and the first cohort of the Meridian Entrepreneur Programme starting in June 2021.