COLLEZIONE 1 by MITA "The New Sunglasses…all Green"
MITA, the new eyewear brand that combines fashion and sustainability, presents the new sunglasses from COLLEZIONE 1.
The collection is inspired by current trends, which combine style with sustainability.
The new sunglasses are for fashion lovers and at the same time are also for the new type of conscious consumer that wants to affirm their personality but that is more aware of helping the environment.
All MITA frames are in fact made with recycled and recyclable materials: plastic made from PET bottles and recycled aluminum; even the sun lenses are biodegradable as well as all the components and packaging.
The sunglasses collection stands out for frames with a modern and refined design, with large vintage-inspired shapes alternating with more minimal and contemporary ones.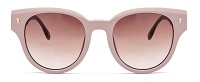 For example, Brickell (above) women's model characterized by a combination of recycled PET material, in contrast between the front in full colors and Havana temples with shaded lenses.
In addition, Wynwood model with a sensual cat shape in three color variations of black, red or havana and shaded lenses.

The female sunglasses Tuscany, on the other hand, is made with recycled aluminum with bio acetate temple end pieces.
The thin and light frame with an original hexagonal shape is characterized by wine red color with smoked lenses and light gold with nuanced brown or blue lenses with a contrasting metal details on the hinge.

Even the men's models evoke retro shapes, like Milano in recycled aluminum and temple end pieces in bio acetate.
The cut of the squared drop lenses renews the aviator shape which marked an era. These sunglasses are proposed in light gold with smoked brown lenses, silver with light blue smoked lenses or light gold with blue lenses.
Also, in recycled aluminum Duomo, Featured on Home page which compared to the previous one has a double bridge and round shape in gold with brown lenses, black with green lenses, light gold with blue lenses.

Finally, Lincoln, wide and square Bio acetate sunglasses with a double bridge that gives to the frame an allure with a strong personality.