BCLA Vision live lecture stream explores future of contact lens practice around the world
Eye care professionals from around the world joined in a 12 hour live-streamed online lecture and practical programme as part of the first-ever BCLA Vision conference.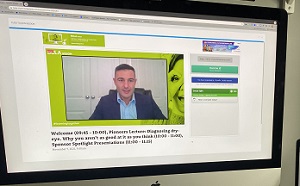 The virtual event saw a panel of globally renowned experts discuss the latest research findings and give invaluable advice on how to embed this learning into everyday practice.
Professor Eric Papas opened the event with the Pioneers lecture, where he looked at the efficacy of dry eye disease diagnostic procedures, using 18th century 'Bayesian thinking' to highlight the vulnerability of results when you only combine symptoms with a single test result to determine a treatment pathway.
Quoting country and western legend Dolly Parton, he said "Less is not more, more is more" – advocating a combination of four separate tests (osmolarity, non-invasive tear break-up time, corneal staining and conjunctival staining) in order to get a 95 per cent accurate result, almost double the accuracy when compared to a single test.
Professor James Wolffsohn presented the prestigious BCLA Medal address – entitled 'Advances in contact lens and anterior eye care – an eye to the future'.
The session reflected on advances in 21st century technology such as artificial intelligence to enhance the assessment of the anterior eye and contact lenses and guide future diagnostic decision making.
During his address, Prof Wolffsohn highlighted the importance of what he referred to as 'the three Cs' – collaboration, challenge and change – and urged delegates to completely reinvent themselves throughout their career to remain at the cutting-edge of healthcare.
He said: "Contact lenses is something I have ended up in, it's not what I started in. I certainly couldn't have done it on my own, I have worked with good people and seen the world of healthcare constantly move forward."
The session examined best practice in grading anterior eye images, with advances in technology enabling more objective grading. The exciting potential of AI to extract more information from data rich images and to influence diagnosis was also discussed, along with tips of how best to communicate with patients to deliver the optimum outcomes through evidence-based practice.
The live lecture stream included sessions on tele-optometry in anterior eye practice, technology that has been rapidly accelerated due to the implications of the COVID-19 pandemic. The lecture discussed how ECPs can integrate tele-optometry into their practice permanently to help care for contact lens and dry eye patients.
Other sessions looked at scleral lens proficiency, keratoconus clinics, and the 'business' of contact lenses.
BCLA Vision, held online on Sunday, 7 November and hosted by BCLA president Neil Retallic, Karen Carrasquillo, Joserine Samson, Manbir Nagra and Debarun Dutta, was open to both members and non-members of the BCLA and followed on from the live-streamed BCLA Clinical Conference.
BCLA chief executive, Luke Stevens-Burt, said: "We are delighted to have delivered a truly compelling live stream across multiple continents, building on the success of our virtual conference earlier in the year and bringing the expertise of leading global figures to a worldwide audience.
"This was a carefully curated programme featuring the very latest research, with a focus on the innovation and technology available to us today that we should not ignore and that can play a huge part in how we look after contact lens and anterior eye."
The event also featured three lectures from new BCLA Fellows, with Fabio Carta, Dimitra Makrynioti and Andrew Pucker all taking to the virtual stage.
BCLA Vision was supported by partner sponsor Alcon, platinum sponsors CooperVision and Johnson & Johnson Vision Care and premium sponsor Menicon.