A winning team at industry awards
THE expertise and care of Specsavers teams has been recognised at the Optician Awards.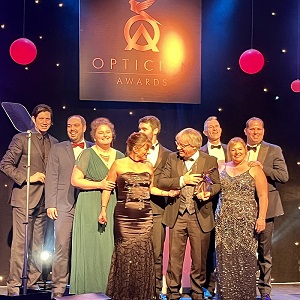 The industry awards, organised by Optician magazine, celebrate the achievements of the optical sector with winners drawn from a range of individual and team categories.
Specsavers Haverfordwest was named as multiple practice of the year at a gala dinner, presented by TV personality Vernon Kay, at the Hilton Park Lane in London on 30 November. Four other Specsavers community practices were also shortlisted for the award – Hartlepool, Hemel Hempstead, Northampton and Weston Favell.
'It's absolutely fantastic to get the recognition for all the hard work the team put in,' says Paul Skoczek, Dispensing Director at Specsavers Haverfordwest. 'We've invested in a wonderful team. We couldn't do it without them.'
Specsavers colleagues were also finalists in a number of other categories, including Ian Morris from Specsavers Wick in the optometrist of the year category. The dispensing optician of the year category saw Mark Thake of Specsavers Gorleston and Great Yarmouth shortlisted.
In the enhanced optical service category, Specsavers Nottingham was a finalist. The Jubilee Vision award saw Emel Manea of Specsavers Weston Favell and Jack Collins of Specsavers Nuneaton shortlisted.
'Congratulations to our Specsavers colleagues who won awards and all those who were shortlisted. They and our colleagues change lives daily through their care and expertise,' says Russell Peake, Head of Clinical Engagement & Progression at Specsavers, who attended the gala dinner.
'As a business, Specsavers is also committed to supporting our colleagues to be the best they can be through continuous professional development, and it is rewarding to see them get recognised by the wider industry. Congratulations to the event organisers and award winners as well.'
The Jubilee Vision category was a new category, sponsored by Specsavers, to mark the late Queen Elizabeth II's Platinum Jubilee year. The award recognised those at the dawn of their optical career who submitted inspirational and visionary responses when asked how the optical profession and business should develop over the next 10 years.