Grafton Optical launches the DEA Dry Eye Analyser from Moptim at 100% Optical 2023; comprehensive analysis for complete Dry Eye diagnosis and management.
See it demonstrated on STAND M325 at 100% Optical
Grafton Optical are excited to launch the DEA Dry Eye Analyser by Moptim at 100% Optical 2023.
DEA is an innovative device that quickly performs a comprehensive examination for complete dry eye diagnosis and management.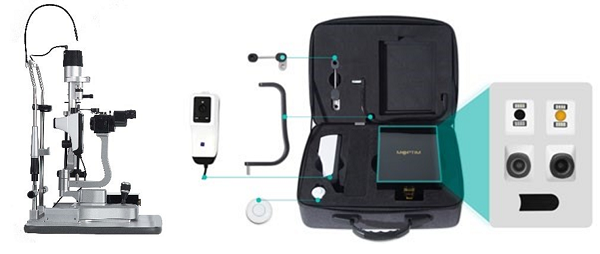 DEA is one of the smallest dry eye diagnostic devices on the market. The compact design makes it easy to be integrated into a variety of clinical environments. It can be operated in three modalities: stand-alone, slit lamp mounted and handheld.
For ophthalmology clinics that already have slit lamps, there is no need to add an extra trolley for DEA. By installing the included slit lamp adaptors, the DEA can be attached to the majority of slit lamps, without affecting their use.
DEA provides complete dry eye diagnosis testing, as recommended by DEWS II (2017). The device offers a quick diagnosis of FBUT/NIBUT, corneal staining, tear meniscus height, meibography, interferometry, bulbar redness and blepharitis.
The built-in DEQ-5 questionnaire can be used in combination with objective findings to aid in diagnosis, and the Efron International Grading Scale helps to assess the severity of dry eye disease.
8 mp high resolution camera
Extensive report templates
Compatible with the majority of slit lamps
Can be used on desktop or handheld
Streamlined software workflow
Custom protocol creation
Auto focus, auto exposure
Wireless camera shutter can be fixed to slit lamp joystick
For more information on the Moptim DEA Dry Eye Analyser, please contact sales@graftonoptical.com or call us on 01923 233980.
Grafton Optical is one of the UK's leading suppliers of ophthalmic instruments, equipping and servicing independent and larger chain opticians as well as Britain's hospitals.