A restructure with Positive Impact to support expansion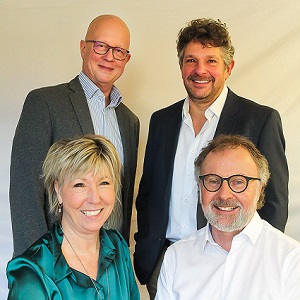 Positive Impact has appointed three new directors as part of a restructure following its expansion as an optical distributor in recent years.
Well-known to practitioners, Professional Services Lead Phil Thompson will become Professional Services Director and Business Development Manager Tony Whyatt will become Commercial Director. Finance Manager Chris Amor has been appointed Finance Director and has extensive management accountancy experience in the optical sector through his past roles at Bausch + Lomb.
As part of the restructure, the company founders will also change roles to better reflect the business expansion and increasing product portfolio. Positive Impact's Managing Director Maxine Green will become Sales and Operations Director with Nick Atkins moving into the role of Managing Director.
Explaining the reasons for the changes, Mr Atkins said: "Phil and Tony have become an integral and essential part of the business crucial to our future plans. Becoming directors in recognition of their loyalty ensures their ongoing commitment to the company while enabling them to share in the future success of the business."
Positive Impact has introduced new products and services to independent practices on behalf of some of the biggest names in the optical industry since 2008. The company subsequently started distributing its own products and is now a multi award-winning optical supplier.
The business redevelopment began in 2013 with addition of Glasklar, the patient loyalty-building lens cleaner initiative. This was followed by the first foray into the dry eye arena in 2015. Since then, the company has carefully selected innovative new products to create the 'Dry Eye Zone,' a best-in-class range of diagnostic and treatment options.
SynergEyes marked the beginning of the company's journey into the contact lens market where the two founders have a proven track record of success. Since 2017 Positive Impact has been providing sales, marketing and back-office support for SynergEyes in the UK.
In 2019 there was the introduction of NaturalVue 1-Day Multifocal from Visioneering Technologies Inc. The daily disposable contact lens for presbyopia and myopia brought Positive Impact into the mainstream contact lens business and this year there will be the introduction of another more specialist product into the portfolio.
From the original concept of bringing the flexibility of contract sales to the ophthalmic industry, Positive Impact is now a fully-fledged distributor. Recognition and an indication of how far the business has advanced was provided with a second prestigious Optician Award for Optical Supplier of the Year in 2021.
Positive Impact will be exhibiting at 100% Optical on stand L350.