23° Eyewear with ablyss lenses into the blue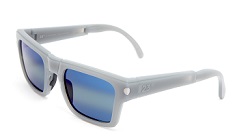 Keep calm and wear Ablyss: the 23° Eyewear Ablyss mineral lens draw their inspiration from the idyllic dream of a lifestyle dedicated to the sea; perfect on the beach and on a boat, but also for the metropolitan eco warrior who has to face the new year with the right mood. The blue color of these Barberini lens, indeed, guarantees a calming visual effect, ensuring the maximum protection from harmful UV rays and without altering the chromatic vision while driving.
The purity of the Barberini mineral glass sun lenses is further emphasized by a high chromatic definition, thanks to the particular transmission spectrum of its filter; this accentuates and separates the various colors, as well as making the outlines of objects more visible, thanks to the effect of polarizing filtration. The blue-mirrored lens with the double shade reflects and absorbs the blinding light that comes from above and below. This provides additional protection to your eyes and promotes a sharper and more comfortable vision.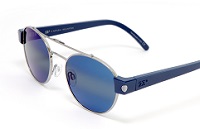 Among the 23° Eyewear models that mount the Ablyss lens, those of the Icon segment stand out for the variety of its shapes, which range from soft and rounded or more rigorous – square and rectangular – up to the classic aviator ones, to fit perfectly on any type of face, be it male or female. The frames are made of NEOCLEUS biomaterial and metal, and stand out for the high quality and precision of Italian craftsmanship.
The harmonic synthesis of the circle comes to life in the ROUND ONE and ROUND TWO models, being these frames with an elegant rounded shape available in Crystal Blue and Gun-Blue colors.
The oval shape of OVAL ONE, available in SH Black, reminds of the elliptical orbit of the earth, while the regularity of the square is shown in the decisive shapes of the SQUARE ONE, SQUARE TWO and SQUARE THREE models, available in Crystal Blue, Gun-Black and Gun –Black. The balanced lines of the rectangle characterize the RECTANGULAR ONE and RECTANGULAR TWO models, available in Crystal Gray and Black. Finally, AVIATOR ONE has been designed for gazing at the sky, a frame with a timeless charm, available in Gun-Blue.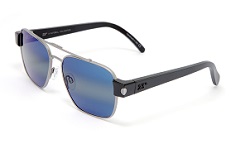 23° Eyewear is the eyewear brand resulting from the collaboration between the production expertise of Mirage, a historic Italian eyewear company, and the conceptual design of Studio Russo and has been conceived taking  an "eco-friendly" approach: to create glasses which in turn give life to other glasses, eliminating waste. A never-ending circular flow that begins, ends and begins again, in perpetual motion like the Earth.