CooperVision Announces Date and Line-Up for Virtual Perspectives 2023
World-renowned Speakers to Share Latest Thinking in Contact Lens Science and Education at Virtual CPD Event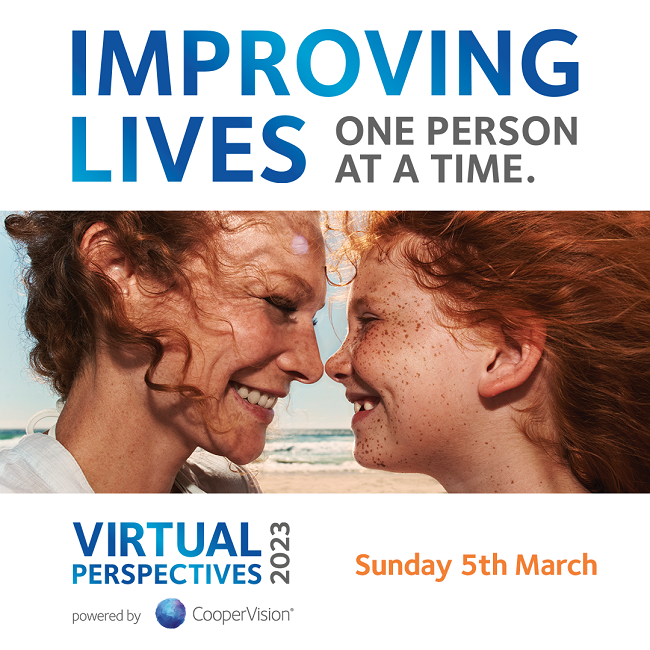 Following the success of last year's event with over 3,500 delegates in attendance, the contact lens manufacturer will once again be powering this important educational event, focusing on the latest thinking and trends in contact lens science under the theme of 'Improving Lives, One Person at a Time'.
On Sunday 5th March 2023, the virtual CPD event will see presentations and panel discussions delivered by thought leaders and renowned eye care professionals from around the world.
They will be exploring how to achieve a successful lifetime of contact lens wear for patients – from vision needs in childhood to addressing presbyopia. Myopia management will be a key area of discussion, and presenters will touch on a number of other important subjects that are key to improving patients' lives.
The event will be available in 13 languages and will be moderated by Professor Lyndon Jones and Professor Philip Morgan, with contributions from a host of speakers, including: Alexandra Skjöld, Dr. Byki Huntjens, Craig McArthur, Prof. Deborah Jones, Dean Roberts, Elena García Rubio, Prof. James Wolffsohn, Karen Walsh, Karin van Hees-Teuben, Dr. Michael Baertschi,  Riccardo Cano and Dr. Sara De Lima. Further information on all of the speakers can be found at: https://coopervision.co.uk/practitioners/virtual-perspectives-2023
As well as being able to attend the virtual main stage sessions, delegates will have the opportunity to gain access to the Science Expo, which will feature the newest clinical data from the ARVO, NCC, IMC and AAO.
Samantha Armstrong, Professional Services Consultant at CooperVision, commented: "We're delighted to be hosting Virtual Perspectives once again in 2023 and with some new topics and formats this time around, we are confident that it will be bigger and better than ever before. Our numerous keynote speakers are primed to deliver an engaging and insightful event, sharing clinical pearls which will be valuable to eye care professionals in their everyday practice."
To register for Virtual Perspectives 2023, visit:
https://vshow.on24.com/vshow/CooperVision/registration/20819