Unique, handcrafted display system by MONOQOOL
2 contemporary units with a multitude of possibilities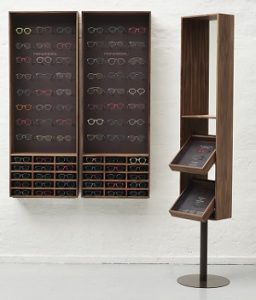 The Danish 3D printed eyewear company Monoqool presents a new and versatile handcrafted Store Display Concept, a strong and eyecatching design piece for the retail environment, a unique proposition to shine the spotlight on their innovative, sustainable 3D printed frames. Committed to providing their partners with successful tools for optical retailing, the independent brand has collaborated with the Danish designer Mads Hanghøj, building on the local tradition for furniture craftsmanship and design in a sophisticated and scalable display concept that truly breaks the mould.
Launched this season for the presentation of the A/W 2021/22 Eyewear collection at Monoqool, the stylish units are finished in beautiful, warm walnut veneer with the look and feel of high-end Danish furniture. They can be free standing or wall mounted, in a variety of configurations, to meet specific demands and according to the size of the retail space.
"Monoqool is committed to working closely with optical retailers to provide the tools they need to successfully communicate and sell the brand. This new Store Display Concept is especially versatile and unique – allowing a multitude of possibilities, to fit any space…" Allan Petersen – CEO, MONOQOOL
The concept includes a Frame Display Unit (for 39 frames) and a Brand Explainer / Mirror Unit, where the details and individual parts of the frames are highlighted and explained for the customer with precision and attention to detail. This section also beautifully illustrates MONOQOOL's commitment to 3D printing technology and sustainability, qualities which are fundamental to the brand credo and its unerring drive towards innovation, quality and good design.
Up to 5 Frame Display Units can be installed together alongside the Brand Explainer / Mirror Unit for a particularly exceptional presentation of the Monoqool brand in-store.
MONOQOOL will exhibit at OPTI MUNICH 2022 at BOOTH C1.647
Their innovative display system will be on show at the OPTI Booth for optical retailers to experience its benefits and versatility first hand. The display units can also be ordered directly from the company at info@monoqool.com