The Worshipful Company of Spectacle Makers (WCSM) will present bronze medals for excellence in vision research in a virtual ceremony on Thursday 17 December 2020.
The bronze medals are awarded each year by competition. Anyone working in vision research within the UK is eligible and submissions are assessed by a panel of eminent professors drawn from universities and research departments around the UK.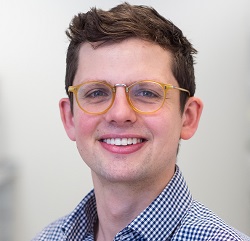 The Master's Medal for the best first-published paper goes to Dr Lewis Fry (left), a junior doctor and researcher from New Zealand who is completing his DPhil at the University of Oxford.
Under the supervision of Professor Robert MacLaren, his research focuses on genetic disorders of the eye such as choroideremia and retinitis pigmentosa. He is currently working on developing treatments to fix the underlying genetic causes of these diseases using gene therapy and genome editing.
His research investigated why some patients with choroideremia had less severe disease. The team was able to use the findings to deduce the dose of gene therapy that might be required to treat choroideremia patients by replacing their missing copy with a working copy of the choroideremia gene.

The 2020 Ruskell Medal, for the best paper in the fields of ophthalmology and vision science by a researcher at any stage of their career, is this year awarded to an optometrist who has not yet achieved her PhD.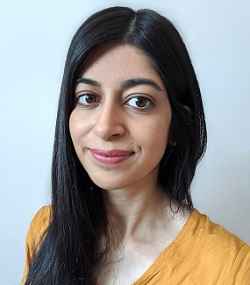 Reena Chopra (right) is an optometrist at Moorfields Eye Hospital and a clinician scientist at Google Health. She is currently a PhD student at UCL Institute of Ophthalmology (supported by the College of Optometrists).
In a collaboration between Moorfields Eye Hospital, DeepMind and Google Health, the team were able to train an artificial intelligence (AI) system to predict whether a patient with wet AMD in one eye would develop the condition in their second eye.
Ms Chopra's research paper, published jointly with computer scientist Jason Yim in the journal Nature Medicine in May 2020, demonstrates the potential for AI to help improve the understanding of disease progression and predict the future risk of patients developing sight-threatening conditions – and in the future could help identify which patients might benefit from preventative treatment.
The winners will attend a special online ceremony introduced by the Chair of the Company's Professorial Committee, Professor Robin Ali, Professor of Human Molecular Genetics at King's College London. The medals and accompanying cash prizes will be presented by WCSM's Master, Mr Huntly Taylor.
Applications will open for next year's competition in February 2021.