The Highlighter Capsule – The first Blackfin capsule
Tech, titanium and color – the very essence of Blackfin instilled in The Highlighter, the first Blackfin brand capsule.
A sophisticated style exercise encompasses the spirit of the brand, driving it toward an extreme, iconic design concept. Three sunwear styles embrace inspirations from the past and launch them into a futuristic vision. Squared lines recall the oversize proportions of '90s eyewear while the neon color looks further back to the excesses of the '80s. A wrap, a cat-eye and a classic aviator are pushed to the extreme in big angular frames that take shape through clear neon lines drawn across the bold profile, just like a highlighter.

The exceptional skills of Blackfin emerge from the processing of different thicknesses of titanium – the front is obtained from a single 3 mm block while the streak of color on the top rim is applied in bas-relief. An extraordinary product that arises, fully formed, from inside the Black Shelter, the company's new sustainable headquarters.
The frames are strictly black with the neon stripe available in five colors: red, fuchsia, blue, yellow and green. Once again, color and meticulous workmanship highlight the authentic, absolute craftsmanship that goes into the production of titanium eyewear.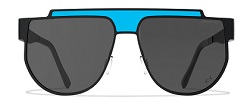 An exclusive photo shoot highlighting the Capsule product features two models in geometric garments wrapped in bands of fluorescent laser light that stand out against a black background.
The Highlighter Capsule is available in the online Blackfin shop and at select optical boutiques.
Watch the video https://youtu.be/_F1OIjauscw