Supersmart Katie sets her sights on a bright future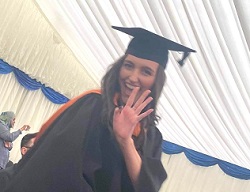 NEWLY qualified optometrist Katie Martin has completed her pre-registration qualifications in under a year, leaving her Plymouth Colleagues awestruck.
Pre-reg optometrists like Katie have two years and three months to complete the scheme, so her achievement has amazed others at the store.
Nathan Burn, a director at Specsavers Plymouth, says: 'We've all said a huge congratulations to Katie for stunning us by completing her pre-reg so quickly.
'We're simply in awe of her. It really is a fantastic achievement. She made it look so easy, even though many others will tell you it absolutely isn't. We're very proud of her.'

The pre-reg scheme enables optometry graduates to develop their knowledge and skills in the workplace. Trainees are supervised and assessed before completing the final assessment and qualifying as an optometrist.
Katie's day-to-day duties as a pre-reg optometrist involved her conducting eye examinations, contact lens assessments and aftercare appointments, as well as dispensing spectacles.
The scheme is renowned for being challenging, with pre-reg optometrists having to balance their day job and training with regular revision.
Katie says: 'I'm very pleased to qualify so quickly. It was amazing the day I got my results because, luckily, it was good news.
'Now that I'm qualified, I'm looking forward to my future at the Plymouth Specsavers Store. I'm Plymouth born and bred and I'm really happy with the great support from everyone here, as well as the opportunities I get to further my clinical knowledge and development here.'