Simply Comfortable
New for 2022, Essentials by STEPPER is a range of affordable styles that deliver many of the characteristics evident in its sibling STEPPER and STEPPERS brands at an attractively lower price.
"These frames broaden the appeal of our offering, allowing us to deliver STEPPER comfort and fit to even more frame wearers," comments Peter Reeve, Managing Director STEPPER (UK) Limited.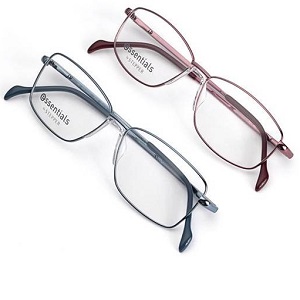 These frames are positioned as an introduction to STEPPER EYEWEAR and represent a significant expansion of the benefits brought by the 'original German design' concept.
Comprising male, female and unisex designs the fifteen-model range offer metal and plastic construction with each model in a choice of three colourways.
Plastic models are created from TX3 (an elementary version of the TX5 material used for STEPPER and STEPPERS plastic models) and offer the brand's renowned comfort due to their 'design from the bridge' concept, 3D design/manufacture and remarkable lightness.
Metal models benefit a STEPPER comfort bridge. This TX3 element of STEPPER EYEWEAR frame architecture ensures guaranteed wearer satisfaction by spreading the weight across the bridge and eliminating the need for nose pads.
Utilising STEPPER EYEWEAR's innovation and technology skills, Essentials by STEPPER delivers desirable eyewear characteristics with an outstanding balance of quality, comfort and value for money.
"At the heart of Essentials by STEPPER is the belief that no one should compromise comfort and fit, even on value-focussed eyewear," adds Peter.
With understated, elegant designs; value eyewear has never looked or felt so good.