Greenock practice director to retire after nearly 40 years of providing eye care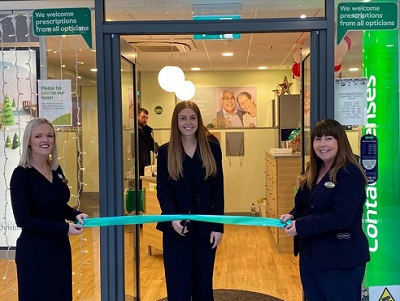 A GREENOCK practice director has retired after nearly four decades of working in optics and seven years at the helm of an opticians in Greenock, providing professional eyecare to generations of people across the town.
Lesley Brown, a retail partner at Specsavers in the Oak Mall Shopping Centre has retired, handing over the reins of the business to new practice director and her daughter, Megan Brown, who joins existing partners Claire Kincaid and Jonathan Dry.
Lesley qualified as a Dispensing Optician in 1991 before eventually joining the Specsavers team in 2008. She worked across the business, including her role as a Regional Development Manager looking after 64 practices across Scotland and training hundreds of Optical Assistants starting out in their career in optics.
She joined the Greenock Specsavers team as a practice director in 2015 and has overseen the store's growth, developing the team of now 40 staff and overseeing the practice's expansion and on-site audiology hub launch.
Lesley also worked through the recent lockdowns keeping the practice available to deliver triage care for any customers who needed access to emergency eyecare in Greenock town centre.
Reflecting on her years of service at Specsavers, Lesley says: 'My time with the team at Specsavers Greenock has given me so many cherished memories. It's been fantastic to see the practice grow and the team here deliver incredible customer service to the generations of loyal customers they have in Inverclyde.
'I'd like to thank those very customers for their support and patronage over the years and it's been fantastic to see how much the team and practice has grown, even since 2015.
'I wish Claire, Jonathan and my daughter Megan all the best and I'm certain that Specsavers Greenock will continue to be the most caring opticians and audiologists in Inverclyde.'
As well as professional eyecare, the Greenock practice will also continue as a hearing hub for all hearing health concerns, led by audiology partner Christopher Lyall.