The Worshipful Company of Spectacle Makers rewards public health and myopia research 
The Worshipful Company of Spectacle Makers (WCSM) this week announced the winners of its annual bronze medal award competitions for work published by early-stage researchers.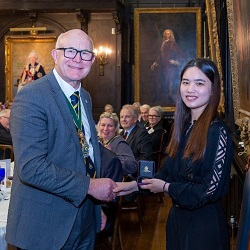 The Master's Medal is targeted at those currently studying for, or within one year of achieving, a doctorate or higher level qualification.
The 2022 Master's Medal was awarded to  Dr Xiaofan Jiang of the Institute of Ophthalmology at UCL, for her paper "Electrical responses from human retinal cone pathways associate with a common genetic polymorphism implicated in myopia". As the number of those affected by myopia is predicted to increase significantly within the next 20 years, research in this area is vital. Understanding more of the reasons why children, in particular, develop myopia is a key contemporary issue.
The criteria for the Company's 2022 Ruskell Medal were adapted to recognise research published within five years of achieving a doctorate, or of taking up office in an equivalent level clinical post.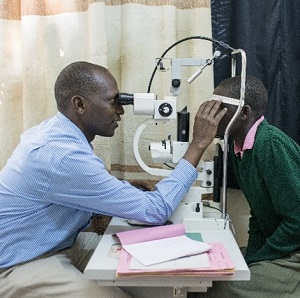 For the first time in its history, the Ruskell Medal has this year been awarded to an ophthalmologist working in Africa, in the field of public health. Dr Hillary Rono's paper was entitled: "Effectiveness of an mHealth system on access to eye health services in Kenya: a cluster-randomised controlled trial" and draws from directly on his work in Kitale, where he works among a large, rural population.  His research was critical in assessing the effectiveness of using a smartphone-based referral system (Peek) to increase eye health service utilisation in Kenya.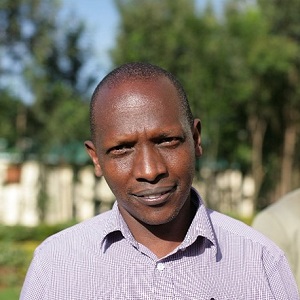 Dr Rono's studies fall under the supervision of the London School of Hygiene and Tropical Medicine. He is also part of the team at social enterprise Peek Vision, which provides software and data intelligence to help eye health programme providers in Africa and Asia optimise their services and strengthen local healthcare systems.
Dr Rono said "I am delighted to receive this award on behalf of everyone who contributed to my research. It is vital that health innovations are supported by high-quality research. I am pleased to have been able to contribute to the evidence base for using mobile solutions to help eye health services across the world optimise and make the most of limited resources".
The Ruskell Medal was received on behalf of Dr Hillary Rono by Dr Priya Morjaria, Assistant Professor at the International Centre for Eye Health, based at the London School of Hygiene and Medicine, and Head of Global Programme Design for Peek Vision.