OSA's Optical labs drive sustainability in optics
Rising energy costs and a heightened awareness of the waste from optical labs has brought an increased impetus for sustainability, the Optical Suppliers' Association (OSA) believes.
Cutting water usage for a surfaced lens from 12 litres to four, and reducing the estimated 3,000 tonnes of waste which goes to landfill each year are uppermost in OSA members' business plans.
Rainwater harvesting, re-cycling lens production water, solar panels on lab rooves, double glazing, LED lights and online catalogues set the tone for the top down approach.  A move away from heavy metal alloys to ART (alloy-free technology) from Satisloh – estimated to be 15-20% cheaper for each lens produced – is a key element to reducing waste.
Norville 20/20 – part of Inspecs, and Caledonian Optical are both looking at the benefits that a change of location brings to managing the utility footprint, at Nev Trotter MD of Norville 20/20 explained –
"Our recent move to a newer building enabled a number of environmental ambitions to be met.  The move has brought a reduction in water usage of 28%, gas reduction of 20% and electricity use has been cut by 16% – all for a similar lens output.  We have thought through everything from electric charging points in the car park, and consolidating dispatch with a new IT system which brings considerable savings."
Mark Robertson, Head of Manufacturing at Caledonian Optical, is planning similar advantages with their lab move next year –
"Sustainability underpins all aspects of our move.  We are looking to treble lab space which will enable greater storage and that means a reduction in deliveries.  Manufacturing our own lenses in Aberdeen and in-house AR coating ensures the product is not being shipped around – messages which are appreciated by our customers," he said.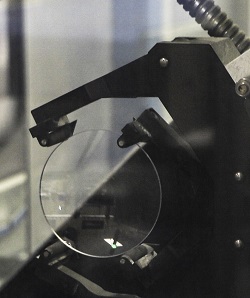 Highly accurate dry cutting technology, facilitated by the MEI 641 TBA which, via suction, removes the need for disposable blocking pads, has made a profound difference to several UK labs, as Jai Kudo lenses, part of Millmead Optical Group, Commercial Manager, Shaun Bace explained –
"Processing a lens without water is much faster and there are less variables.  Making sustainable decisions often make commercial sense too."
Millmead is manufacturing frames and cases at its north-west facility in Maghull, but conscious of the tremendous waste from dummy lenses and lab swarf is shining a light on the issue with a life size sculpture set the be unveiled later this year  –
"We are all conscious that dummy lenses go straight into the bin, but we are aiming to collect these when deliveries are dropped off at the practice.  Some dummy lenses are biodegradable but we need them all to be biodegradable.  Our goal at Millmead is to recycle everything and to close the loop on waste," said James Conway, CEO Millmead Group.
A top down approach to sustainability is very evident at Essilor with the global "Eyes on the Planet" initiative backed up by the management undertaking sessions on carbon neutrality, explained Thornbury lab manager, Dan Peacey.
"We have fitted meters to all devices using water so that we can monitor consumption at any one time. This computerised system enables us to really interrogate what our processes are doing. The most significant use of electricity occurs in the AR chambers, but Essilor has developed an Eco-kit which ensures that this aspect of lab equipment is not operating all the time. Economies during down time, particularly, have brought a 40% reduction in power use in that department."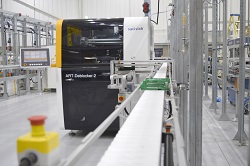 Recycled packaging, re-usable envelopes, and consolidating orders are uppermost in the supply chain for all of the OSA member labs –
"In everything our team do, we ask ourselves how we can make it more sustainable. My Holy Grail is to have a paperless system for all orders in production, but we are not there yet," added Caledonian's Mark Robertson.
James Conway agreed –
"Our goal is to recycle everything in optics.  We are on a sustainable journey but we can always do more."
Apart from lab efficiencies the work environment is uppermost in the three pillars of Hoya's guiding principles of Community, Environment and Workplace: "One Vision" initiative. The Wrexham site has been landscaped, as Marketing Manager, Dale Hughes explained –
"The wasteland next to our lab has been converted to a wildlife area and it is blossoming. It has gone down very well with the local community and creates a lovely haven at lunchtime for our team."
If you would like to know more about sustainability in the optical supply chain see the Green Charter on the OSA website :  OSA SUSTAINABILITY COMMITTEE Glossary of Terms (osa-uk.co.uk)