Ocean blue project & Miami beach clean up join efforts with Mita eyewear, for a more sustainable future
The green eyewear brand along with these two no profit organizations hopes to create environmental awareness with this new campaign of ocean pollution clean up.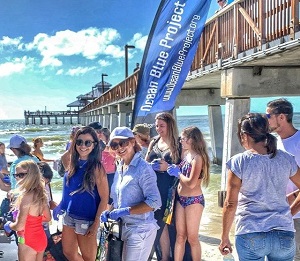 For MITA – the eyewear brand made with PET plastic from bottles thrown into the ocean – environmental sustainability is not only our company philosophy, but our real and concrete commitment as a brand.
Hence the collaboration with two major American non-profit organizations dedicated to the environment and the protection of the seas: Ocean Blue Project and Miami Beach Clean Up. Both associations promote beach and water cleaning campaigns from plastic and waste through the involvement of volunteers and educational programs aimed at citizens.
Ocean Blue Project based in Oregon, aims to make oceans, beaches and rivers pristine and self-sufficient ecosystems again; where wildlife and human communities can coexist and thrive. The project is developed thanks to the direct commitment of local communities and administrations able to mobilize and coordinate resources aimed at educating the younger generations to respect the natural environment.
With similar activities and with the same purpose. Miami Beach Clean Up was founded by Sophie Ringel, a resident of the metropolis who started collecting garbage on the Miami beaches with the aim of making it a clean and welcoming place for citizens and tourists, but mainly to protect its marine fauna. Sophie's commitment and enthusiasm has grown to the point of being able to involve City officials, local Police Department Officers, students, teachers and professionals all united to protect the environment.
In addition to financially supporting the two associations, the MITA team participates as a volunteer in the clean up activities of the beaches, with the aim also to raise awareness of customers, followers and friends. MITA's commitment is also manifested in further concrete help: the company donates 2% of the value of each sale to either organization, where the consumer gets to choose at the time of purchase, which of the two associations they would like their donation to go to.
"MITA EYEWEAR was born with the aim of creating a movement of environmental responsibility within the eyewear industry. Our models are made with recycled materials, the lenses are biodegradable and the packaging is eco-sustainable. We are proud of the collaboration with Ocean Blue Project and Miami Beach Clean Up, an important opportunity to join forces to protect our oceans and our Earth "said Fabio Ferracane, CEO of Vision of Tomorrow.
MITA EYEWEAR is the brand of Vision of Tomorrow (VOT), the consulting and services company in the eyewear sector born from the twenty-year experience of Nora Cabrera (COO) and Fabio Ferracane (CEO).
MITA is the union between MI of Miami, the city where Vision of Tomorrow is based, and ITA like Italy. A name that represents a bridge between the melting pot stylish culture of the American Magic City and the concepts of Italian craftsmanship and design.