New Piuma styles by Materika: modern design, sheer lightness
Just out, two new styles in the MATERIKA PIUMA series, the high-end brand by LOOK-made in Italia.
Consistent with the modern mood typical of the brand and its aesthetic signature, the design of the frames is based on the concept of dynamism. As occurs in a wind tunnel, the shapes seem to be molded by a wind current that caresses the surface while, fluid as a liquid, the sharp edges of the bridge and end pieces melt into the rims. Magnesium, the material from which these styles are made, is a key element invoking the world of high-speed, where weight must be reduced to a minimum.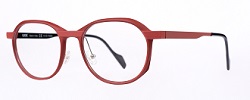 These two new frames – which will be presented at Opti 2023 – join those currently in the collection, bringing the total to four: two for men – in six color options – and two for women – in five different hues.
Contrasting matte and polished details make way for exclusive shimmering colors that accentuate the dynamic look of the series, while bright nuances and reflective metal details highlight the inside of the temples. Also among the colorways is a "pure" gradation that faithfully mimics the appearance of magnesium in its most elemental state.
This translates to light-as-a-feather eyewear with a well-defined personality. And, like a feather, its solid, structured core lends flight-worthy performance to the metal.
All MATERIKA PIUMA frames are traceable because they are developed, designed and produced entirely in Italy by LOOK-made in Italia.