New College President and Council members announced at Optometry Tomorrow
The College of Optometrists welcomed a new President and seven new Council members at its AGM, held during the College's clinical conference, Optometry Tomorrow 2022 in Telford on 20 June.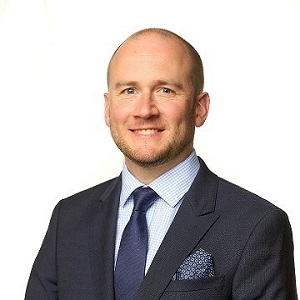 The incoming College President is Professor Leon Davies FCOptom, current Board member and previous Vice President. Leon is Professor of Optometry and Physiological Optics at Aston University, and former Editor-in-Chief of the College's peer reviewed CPD journal, Optometry in Practice.
New College President, Professor Leon Davies said:
"I am extremely proud to be elected President of the College and honoured to represent the profession at such a crucial time. With transformational changes planned and underway, from the GOC Opticians Act review to the College's newly published Workforce vision, I am determined to continue the profession's advances to ensure optometrists across the UK are at the centre of new models of eye care, and that their competences and skills are recognised and used to their full potential.
"I would like to pay tribute to our outgoing President, Colin Davidson FCOptom, for his unstinting work and dedication over the last two years and offer thanks to all our departing Board and Council members for their dedicated service. I welcome our new College Council members and extend my congratulations on their appointment."
The new Council members are: David Jameson MCOptom (London), Dr Joy Myint FCOptom (London), Madeleine Mould MCOptom (North East), John Tickner MCOptom (South East), William Gillian MCOptom (South West), and Dr Aleksandra Mankowska MCOptom (Yorkshire and Humber). College member, Stephen Clark MCOptom (Yorkshire and Humber), was also co-opted to the Council for one year until the 2023 AGM.
New Council member Madeleine Mould MCOptom said: "I am looking forward to serving on the College Council, and can't wait to work alongside, and share the views and opinions of, all the optometrists in North East England."
Following the election process, six Council members retained their seats, they are: Kyla Black MCOptom (East Midlands), Dr Gillian Rudduck MCOptom (North West), Matt Roney MCOptom (North West), Kathryn Trimmer MCOptom (Scotland), Mike Horler FCOptom (South East), and Kiki Soteri MCOptom (South West).
Shane Abbas Bhimani MCOptom stepped down from the College Council at the AGM.
Four other appointments were also announced at the AGM; Dr Gillian Rudduck MCOptom, was elected as Vice President, Dr Irene Ctori MCOptom was elected as Chair of the Education and Standards Committee, Matt Roney MCOptom, Kyla Black MCOptom and Dr Aleksandra Mankowska MCOptom were elected as Trustees. Dr Mary-Ann Sherratt MCOptom and lay member Andrew Kitchen were co-opted to the Board of Trustees for one year until the 2023 AGM.
Three Trustee's stepped down from the Board at this year's AGM, they were; Dr Rob Hogan MCOptom, Professor Edward Mallen MCOptom, and Sheetal Patel MCOptom.
Picture by www.edwardmoss.co.uk
All rights reserved
College of Optometrists Staff 2022