MIRAGE, sunglass manufacturer is set to reach carbon neutrality
The company has joined the Zerocarbontarget program to protect the environment, limit pollution and ensure a responsible supply chain.
Historic sunglasses manufacturer Mirage has joined the Zerocarbontarget (ZCT) program with its 23° Eyewear line with a clear "eco-thought" in mind: that of producing glasses that in turn give life to other glasses, thereby minimizing waste.
Zerocarbontarget is a Programme Operator that designs and promotes a path towards Carbon Neutrality. It coordinates the publication of the results achieved and draws up the relevant certifications: it is therefore the ideal tool for companies that wish to certify their projects to reduce carbon emissions within their production chain, taking into account the life cycle of the product.
The ZCT programme is based on ISO 14067 standards through the Life Cycle Assessment (LCA) approach, on the Environmental Product Declaration (EPD) standard for product analysis and on the ISO 14064-1 standard.
Mirage's long-standing commitment to sustainability has led the company to embark on the Zerocarbontarget path, with the aim of protecting the environment, limiting pollution and ensuring a responsible production chain, with a focus on the procurement of resources and raw materials.
The decision to test the carbon footprint of the entire production cycle of 23° Eyewear, the brand launched last year as a result of the combination of Mirage's production expertise and the conceptual design of Studio Russo, is a step in this direction.
The first model to undergo these tests will be the Oval One sunglass style, made of NEOCLEUS, a cutting-edge synthesis combining a naturally-derived biomaterial, high-tech workmanship and an innovative and sustainable production process. The shape of Oval One, moreover, recalls the earth's ellipse and is the perfect synthesis of the circular flow that begins, ends and begins again without stopping, in perpetual motion.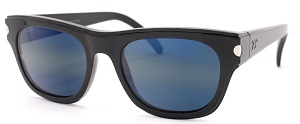 By joining the Zerocarbontarget project, Mirage is adding a new element to its concrete commitment to a more sustainable world: the company is already in the process of obtaining the UNI EN ISO 14001-15 certification for its environmental management system.