Kay iSight Test Professional App – with new added Features
February 2021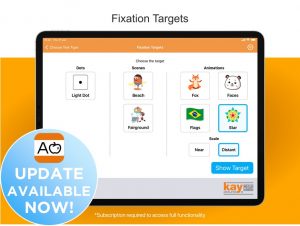 Kay Pictures have updated their Kay iSight Test Professional vision testing app.
It now comes with a permanently free distance letter test, plus additional features in subscription mode.
There is an extra option in letter testing and a new fixation target section, all of which can be tried out free for 30 days by new subscribers.
A recently published review of vision testing apps found The Kay iSight Test Professional app to be the most accurate*.
It lets you measure and record near and distant visual acuity in children from 18 months of age through to adults.
It is simple and intuitive to use, making vision testing quick and easy.

All new features include :

• Free one month trial for all first-time subscribers
• Free unlimited use of the distance letter test
• Point of light fixation target, plus 4 animated images and two static scenes
• Kay Letter Test (6 Letters) corresponding to our new Kay Letter Test
References
*JAMA Ophthalmol. 2021; doi: 10.1001/jamaophthalmol.2020.6177 Visual Acuity
Testing for Telehealth Using Mobile Applications Benjamin J. Steren, BA; Benjamin Young, MD; Jessica Chow, MD