Join Professor James Loughman's Clinical Lecture on Myopia Management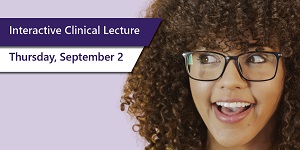 Ocuco supports the clinical webinar "Evidence-Based Myopia Management – Clinical Implications of the New Standard of Care" on Thursday, September 2, at 5 pm BST. The webinar will be presented by Professor James Loughman, Head of the Centre for Eye Research Ireland (CERI) and Ocuco's Clinical Research Director.
Myopia is thought to be a modifiable risk factor for developing eye disease and associated vision loss. As a result, alleviating Myopia symptoms with spectacles or contact lenses is no longer considered sufficient.
The World Council of Optometry, the European Society of Ophthalmology, and the International Myopia Institute have recently called for an evolution in the standard of care for Myopia management.
This clinical lecture will explore what the term "standard of care" actually means and the implications of implementing it for clinical practice.
During the one-hour webinar, Professor James Loughman will discuss:
• The New Standard of Care for Myopia Management
• How to implement an evidence-based approach to Myopia management
• The necessary changes in clinical practice to meet the new standard of care
• The clinical decision supports available
• The relevance of patient communication to successful Myopia control including setting realistic treatment expectations
According to Professor James Loughman, "Scientific and industrial innovators have responded to the threat posed by Myopia. We now have a rapidly increasing range of treatments available which have been shown to delay Myopia onset, reduce or eliminate the progression of Myopia in some children, which may thereby reduce the risk of long-term damage."
About the Presenter

Professor James Loughman is the Clinical Research Director for Ocuco Ltd. An Optometrist with more than 20 years of clinical, academic, research and management experience, James is also presently the Head of the Centre for Eye Research Ireland (CERI), a research facility based in Technological University Dublin, the same university where he received his PhD in 1997. James oversees a portfolio of research, including technology development and big data analytics projects alongside various clinical trials for the control of Myopia, glaucoma and other factors impacting eye health.
Summary

FREE CET Accredited Clinical Lecture
Topic: "Evidence-Based Myopia Management – Clinical Implications of the New Standard of Care"
Presented by: Professor James Loughman
When: Thursday, September 2, 2021
Time: 5 pm BST
Registrations open at: www.ocuco.com/upcoming-clinical-lectures/