INVU – launches "3 in 1" Optical Frames
Consumers worldwide love products that offer outstanding functionality at a fair price thus delivering unbeatable value.
The new INVU "3 in 1" release delivers just that.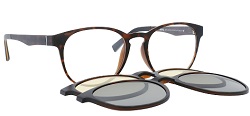 The frames are designed and engineered in Switzerland, crafted in stainless steel and equipped with ultra flexible Swiss TR 90 temples.
Along with each optical frame, consumers receive two custom made magnetic clip-ons. One clip-on offers perfect protection from the sun through INVU's ultra polarized lens technology while the second clip is designed for night driving to enhance visibility in challenging conditions such as when it is raining or when facing oncoming headlights.
The advantages do not stop there. Both clip-ons are coated with INVU's new self-healing Nano technology that instantly repairs small surface scratches, thus increasing the longevity of the lenses.
INVU by Swiss Eyewear Group stands for innovative lens technology and state-of-the-art materials crafted into affordable, fashionable eyewear.