Intensive dry eye relief launched in an easy-to-use spray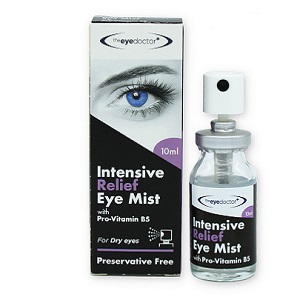 The Body Doctor Ltd has launched The Eye Doctor Intensive Relief Eye Mist for severe and persistent dry eyes, meibomian gland dysfunction (MGD) and blepharitis. It is preservative-free, make-up resistant and is suitable for use with contact lenses.
The new Eye Doctor Intensive Relief Eye Mist stabilises and protects the tear film, improving the moisture of the eye surface. The fast-acting mist treats and alleviates eye irritations by repairing damage to the tear film caused by external and environmental conditions. A key ingredient is hydrating Pro-Vitamin B5, which aids the reconstruction of the epithelium and has anti-inflammatory properties.
The spray also contains liposomes which help to repair the unstable lipid layer. Clinical studies show that liposomes significantly increase lipid layer thickness and tear film stability following application, easing discomfort.
The easy-to-use mist is sprayed onto closed eyes and appeals to a wide age demographic including older patients who may struggle to use eye drops, younger on-the-go patients who want instant relief and children who may have a reduced blink rate due to high screen usage.
The Body Doctor's Managing Director, Sue Grant, said: "Severe and persistent dry eye conditions can be caused by central heating, air conditioning, smoke, dust, pollen or after eye surgery, leaving eyes with irritation, burning or a foreign-body sensation. The new Eye Doctor Intensive Relief Eye Mist provides rapid relief and is a fantastic alternative to eye drops for those who struggle with application."
The Body Doctor's Head of Professional Services, Andrew Price, said: "There is a significant percentage of people who find eye drop instillation difficult, resulting in wastage, frustration, and non-effectiveness of the drop. A clinically effective spray is an ideal alternative. If it contains a supporting liposome component, it is even more so for patients new to dry eye therapy, where their meibomian gland function is dysfunctional, which is the case for the vast majority of patients I see in clinic.
"This, along with the inclusion of Pro-Vitamin B5, means that I have no hesitation recommending this product as a vital part of their dry eye treatment."
The new spray forms part of the company's carefully developed three-step eyecare regime: heat, cleanse and revive. The programme recommends heating the eyelids using The Eye Doctor Premium Compress to open up blocked eyelid glands, cleansing away any secretions with the cooling, sterile Eye Doctor eyelid wipes and reviving the eyes with the moisturising, preservative-free Eye Doctor eye drops or the new Eye Doctor Intensive Relief Mist.