Broadcast about optics careers beaming into hundreds of schools and colleges
A BROADCAST to inspire young people into optics careers is being beamed into hundreds of schools and colleges – with Specsavers colleagues taking a starring role.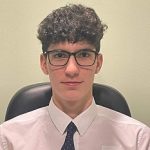 Adam Matthews, an apprentice at Chesterfield Specsavers, will feature on the broadcast during National Apprenticeship Week 2023 – which runs between 6 and 12 February. Helen Belkhodja, a Specsavers director covering four practices in Surrey, will also feature along with Specsavers Head of Apprenticeships Dena Wyatt on the broadcast that helps kick-off the week on Monday 6 February.
'It's exciting to be taking part,' says Mr Matthews, who has been an apprentice with Specsavers since June 2022. 'I've learnt a huge range of skills in a variety of departments alongside amazing people. I can't recommend apprenticeships enough.'
Specsavers Director Helen Belkhodja is also looking forward to encouraging people to think about apprenticeships. 'Specsavers has an excellent career path and training for all team members,' she adds.
The broadcast is part of a Specsavers partnership with Learn Live UK, which delivers careers advice, recruitment opportunities and health awareness broadcasts into schools and colleges across the UK. Specsavers is the only optical organisation taking part in Learn Live UK's broadcasts during National Apprenticeship Week.
'I love National Apprenticeship Week because it is a whole week dedicated to showcasing, not only the success of apprenticeships in Specsavers but also raising awareness of the opportunities in the optics industry,' says Ms Wyatt.
'Many of our apprentices wouldn't have been aware of this exciting industry without the apprenticeship. It's a stepping-stone into a career that offers so many opportunities.'
She adds that Specsavers have supported nearly 1,500 apprentices achieve since 2017, with more than half then planning to study further clinical qualifications in the shape of Cert 3 and 4.
Learn Live UK – Deputy Director Kathryn Ogdin says: 'Learn Live are proud to announce that we are partnering with Specsavers for NAW2023.
'Specsavers is our only optical organisation that will be joining us during our broadcasts throughout the week. It's great to see large employers getting on board to celebrate apprenticeships and shine a light on the opportunities that apprenticeships can offer.'
'T-Levels Thursday'
The Specsavers Apprenticeship team will be raising awareness of the Health Science T-Level for Optical Care Service on 9 February as part of National Apprenticeship Week.
Pete Pavitt and Luanne Watson-Upex, senior managers in the Specsavers Apprenticeship team, will deliver two sessions to colleges on 'T-Levels Thursday'.
It will be delivered in partnership with NCFE, the educational charity and leader in vocational and technical learning, to ensure all health science providers are being reached. One session is for the colleges, head of department and senior colleagues. The other is for students.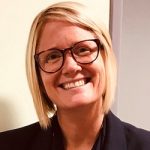 Dena Wyatt, Head of Apprenticeships at Specsavers, is also running two sessions alongside Craig Wade at NCFE, to Specsavers practice directors and managers, on 9 February.
'We are still on our mission to find colleges to deliver the Optical Care Services route and make sure students are aware of this amazing industry and the opportunities available,' she says.
Mr Wade, Sector Manager for Health, Science and Social Care at NCFE, says: 'It's great to have Specsavers onboard to support the next generation of learners in accessing careers in health and science through high quality technical education.
'We're excited to be working with Specsavers on a series of webinars to raise the profile of the new T Level in Healthcare Science – Optical Care Services – a work focused alternative to A-Levels that will provide a route into the growing optics industry. The webinars will give a real insight into the opportunities in this sector and how Specsavers is supporting with industry placements for this specialism.'