Trainee Treasure Trail at 100% Optical Launched
Businesses looking to engage with the next generation of professionals at 100% Optical are being urged to become part of the 100% Optical Trainee Treasure Trail.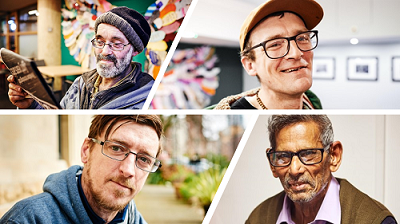 By Providing a student prize and making a donation of £100 to the 100% Optical charity – Vision Care for Homeless People – businesses can participate in this collaboration with Out of the Box Optics*. Fifteen businesses are expected to take part in the trail – an interactive activity which is open to all optometry and dispensing optician students.
"This fun activity helps companies to reach a new audience and helps Vision Care for Homeless People raise awareness of the eyecare needs of homeless people and engage with future volunteers," said Alison Gordon, VCHP Community and Corporate Fundraiser.
Participants register at the VCHP stand and during their visit to the show they must attend and engage with each of the 15 stands featured on the trail. The completed trail cards will be entered into a prize draw each day at 4pm by VCHP.
"The funds and awareness raised help us to address inequalities in eyecare through our free eye care clinics for homeless and other vulnerable people," added Alison.
If you would like to be one of the featured companies, please contact Alison Gordon: alison.gordon@vchp.org.uk. by 10th February 2023.
 More information 
VCHP provides free eye care to homeless and other vulnerable people through volunteer run clinics, based in homeless day centres because homeless people are particularly disadvantaged when it comes to obtaining sight tests, glasses and eye care.  For more information please visit www.vchp.org.uk.
*The Trainee Treasure Trail is the idea of Out of the Box Optics – who provide mentorship and educational support to optometry students. Since 2016 their OSCE Masterclasses have helped over 600 pre-Regs tackle their final exams enroute to becoming qualified. Out of the Box Optics will be hosting an OSCE training session for pre-reg optometrists as part of the 100 % Optical education programme – also a fundraiser for VCHP.