Impressive annual results from WMAHSN reveals improvement to the West Midlands' health throughout pandemic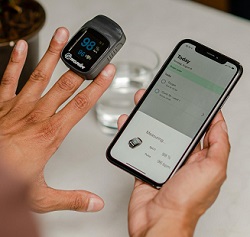 The West Midlands Academic Health Science Network (WMAHSN) has released its annual impact report, sharing statistics and case studies to highlight some incredible healthcare innovations that have come out of the West Midlands during what has been the most challenging year in history for the UK's health and care system.
2020 was a year of transformation for the WMAHSN with key achievements including 671 sites using innovations across the West Midlands, 500 patients benefitting from a new Emergency Laparotomy pathway and 15,906 being diagnosed with heart conditions and bringing in over £4 million worth of investment.
While supporting on the UK's efforts against the pandemic meant that many of the network's programmes and priorities needed to be adapted or realigned over the past 12 months, the WMAHSN has remained committed to improving the region's health and wealth, working more closely with partners than ever before, and identifying three key areas to transform patient care: improving population health, transforming patient safety through innovation, and enabling economic growth.
Key innovations highlighted in the report are:
• Guidance on how to safely switch warfarin to DOAC therapy in patients that are prescribed long-term anticoagulation medication. The WMAHSN supported local teams across the West Midlands in identifying patients who needed to switch medication and make sure they could do so safely. This led to an increase in confidence of anticoagulation nurses and pharmacy professionals and reduced the burden on local anticoagulation services by switching to drugs which can be more easily prescribed and managed long-term.
• Transfer of care around medicines (TCAM) to Care Homes through implementing the direct referral of discharged residents to pharmacy teams which provide services to care homes. This resulted in direct support for care home residents, enabling them to receive accurate and timely administration of medicines after discharge from hospital throughout the pandemic, while pharmacy teams were unable to provide home-based medicines optimisation that patients needed.
• Supporting on the England-wide implementation and adoption of HeartFlow, a non-invasive, cardiac test for stable symptomatic patients with coronary heart disease. One of the main benefits of using HeartFlow is that it allows Doctors to get more information about a patient's condition quicker which helps with more efficient clinical decision making.
• Facilitating the development of the Maxi-Magni Card, a handheld magnifier lens and safe solution which enables staff wearing PPE to read small print, without the need for glasses, helping to make life easier on the front line.
The impact report demonstrates the WMAHSN's ability to respond rapidly in the most challenging of times, making a real difference for patients and service users across the West Midlands.
For the remainder of 2021 and going into 2022, the WMAHSN is focusing on strengthening relationships with regional partners and focusing efforts on developing programmes for key themes such as cardiovascular disease prevention, mental health resilience, remote monitoring, and digital transformation, aiming to deliver significant improvements to patient outcomes and economic growth for the region.
Tony Davis, Director of Innovation & Commercial at the WMAHSN, said: "We are confident that the WMAHSN will continue to positively impact on the health and wellbeing of patients and populations at a local, regional and national level, as we emerge from what has been a challenging year for all and step forward into what could be the most innovative period the sector has ever seen."