Dr. Bettina Hohberger receives Heidelberg Engineering Xtreme Research Award 2022
Heidelberg, Germany – Dr. Bettina Hohberger, from the Eye Clinic at the Friedrich Alexander University in Erlangen, Germany, is this year's winner of the Heidelberg Engineering Xtreme Research Award for her diagnostic insights into long COVID.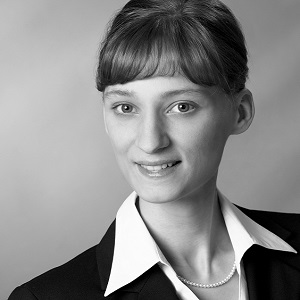 PD Dr. Dr. Hohberger, from the group of Professor Christian Mardin at the University Clinic in Erlangen, Germany, has used optical coherence tomography angiography (OCTA) on the SPECTRALIS® platform in an experimental setting to assess therapeutic responses of patients impaired by chronic fatigue syndrome (CFS). In a recent publication1, she describes her findings of CFS in relation to a preceding COVID-19 infection (known as "long-COVID syndrome"). Long COVID may present certain characteristics in retinal capillary density that can be identified with SPECTRALIS OCTA.
With the Xtreme Research Award, Heidelberg Engineering recognizes talented researchers for their outstanding projects that provide tangible benefits to ophthalmic science, eyecare, and improved patient care.
Dr. Hohberger's research demonstrates the importance of high-resolution OCTA and the potential of OCT imaging beyond ophthalmic pathologies, and it furthers our understanding of this technology and its clinical capabilities.
"It is an honor for me to accept this award from Heidelberg Engineering. With this technology, we were able to gain novel insights into the field of long COVID," Dr. Hohberger said. "Scientific research relies on high-resolution images and precise measurements, and we are fortunate to have OCTA devices with a high resolution to help us detect and image physiological changes, discern patterns, and formulate potential treatment options."
At Heidelberg Engineering, scientific research continues to be a driver for innovation and potential product developments.
"Since our inception in 1990, we have collaborated with international scientists, clinicians, and industry to develop innovative solutions and to support knowledge advancements in ophthalmology and beyond," says Krysten Williams, Head of Global Marketing and Education. "Dr. Hohberger's research is making substantial contributions to medical insights into long COVID and may help refine treatment options."
Heidelberg Engineering celebrated Dr. Hohberger's achievement at the formal Xtreme Research Award ceremony at this year's annual ARVO meeting in Denver, Colorado, where her research findings, summarized in the presentation "Behind the Eye: OCT-A in Long COVID," took center stage.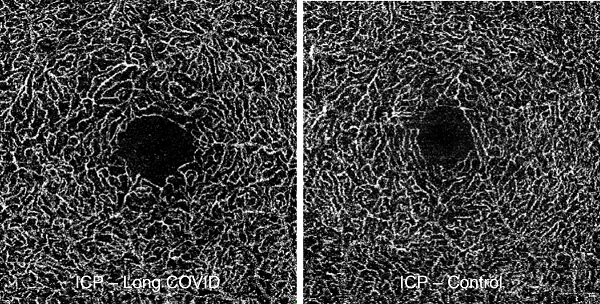 Intermediate capillary plexus (ICP) in a long COVID patient vs. a healthy subject.
Image courtesy: Mardin, Hohberger, et al., University Eye Clinic Erlangen, Germany
Reference:
1 Hohberger, Bettina et al. (2021). Case Report: Neutralization of Autoantibodies Targeting G-Protein-Coupled Receptors Improves Capillary Impairment and Fatigue Symptoms After COVID-19 Infection. Frontiers in Medicine. https://doi.org/10.3389/fmed.2021.754667