Ground-breaking global consensus report made available to 'early bird' bookings for BCLA Clinical Conference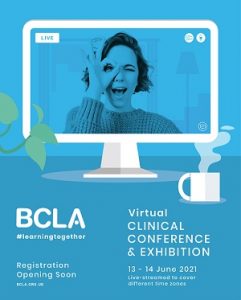 A pioneering global consensus report that is set to shape the world of contact lenses and anterior eye for years to come will be offered to eye care professionals who register their place for this year's BCLA Clinical Conference and Exhibition.
The eagerly awaited event, which this year is being held virtually and live-streamed around the world over a 30 hour period across different time zones, will take place on 13 and 14 June.
Non-members who register before March 10 will be eligible to receive a hard copy of Contact Lens Evidence-based Academic Reports (CLEAR) – the ground-breaking global consensus report delivering guidance to eye care professionals on all aspects of prescribing and fitting contact lenses as part of a concerted drive to provide the best possible patient care.
CLEAR will be published in issue two of the BCLA journal 'Contact Lens and Anterior Eye' (CLAE) and will feature work from panels of globally respected experts.
Made possible by educational grants from Alcon and CooperVision, it will set the standard to which researchers and eye care professionals will refer for the latest information in the field and will also highlight potential opportunities for future research.
Luke Stevens-Burt, chief executive of the BCLA, said: "CLEAR is one of the most exciting pieces of research undertaken within the field of contact lenses and anterior eye for several years and we want to ensure as many eye care professionals as possible have access to this body of work.
"It is going to play a major role in this year's conference and will shape much of the programme, with many of the authors presenting their findings. Our members are already guaranteed access to CLEAR with a
CLAE subscription inclusive in their membership and we want to give non-members the opportunity to benefit from this research too by registering their place as soon as possible.
"This year's conference will be like no other, with a truly global reach. Going 'virtual' gives us the chance to bring CLEAR to every single nation, benefitting both practitioners and patients around the world."
CLEAR will feature 10 overview papers, each compiled by a panel chaired by internationally renowned experts. The topics areas and panel chairs are:
• Anatomy and Physiology of the Anterior Eye – Dr Laura Downie
• Biochemistry of lens materials, coating, comfort drops and solutions – Professor Mark Willcox
• Effect of lens materials/design on the anatomy and physiology of the eye – Professor Philip Morgan
• Speciality lenses – OrthoK – Professor Stephen Vincent and Professor Pauline Cho
• Speciality lenses – Sclerals – Dr Melissa Barnett
• Contact lens complications – Professor Fiona Stapleton
• Medical use of contact lenses – Associate Professor Debbie Jacobs
• Contact lens optics – Dr Kathryn Richdale
• Future applications of contact lenses – Professor Lyndon Jones
• Evidence based contact lens practice – Professor James Wolffsohn
Non-members can register their interest now on the BCLA website, with Clinical Conference registration due to go live shortly.
For more details visit www.bcla.org.uk