ESSILOR STELLEST™ media campaign goes live
Essilor Ltd is delighted to announce that its Stellest™ social media campaign, which was postponed as a mark of respect for Her Majesty Queen Elizabeth II, is now live and projected to achieve more than 30 million impressions across the 40-day campaign.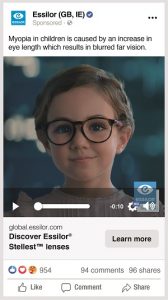 The campaign will target parents of children aged 6+ using videos and social media posts on Facebook and Instagram as the main channels. This will help drive awareness and understanding of myopia as an eye disorder and of Essilor Stellest™ lenses as a new solution to help slow down its progression.
Alan Pitcher, commercial director at Essilor Ltd said: "There is a big job to do in educating the public about the topic of myopia management, particularly as by 2050 it is believed that half of the population could be affected by this vision condition.¹
"Over the next 40 days our Essilor Stellest™ social media campaign will help to educate parents and signpost them to their local independent optician to manage their child's myopia."
The social campaign will consist of both paid for and organic promotion – boosted during key periods – while a social media calendar will allow ECPs access to creative assets and ideas for use across their own channels.
When browsing the product pages on the Essilor website, consumers will be directed to the optician finder via a pop-up banner, to help them find their nearest optician to purchase the Essilor StellestTM lenses.
Trade marketing materials are also available via the EssilorPro marketing hub including point of sale, leaflets, and posters to support Essilor Stellest™ lenses in-store.
Free training materials are available to help ECPs upskill in this area with newly created CPD approved modules about myopia management. These include a range of formats including lectures, discussion workshops and peer reviews. Each of the discussion options are facilitated by fully trained and approved members of the Essilor team.
A myopia management certification programme was recently launched on EssilorLuxottica's training platform, Leonardo, which comes with a suite of training courses to educate and empower eye care professionals on myopia, its complications, and its management.
For further information visit https://ecp.essilor-pro.com/gb