Elliot Colburn MP visits Wallington special school to witness SeeAbility eyecare team
Elliot Colburn MP visits Wallington special school to witness SeeAbility eyecare team deliver new NHS eye care service to children with learning disabilities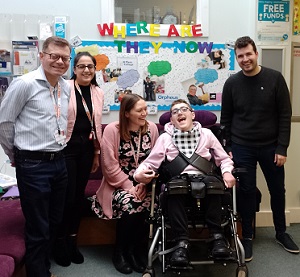 SeeAbility is now helping trial the new NHS service, and Elliot heard from teachers and met with children who are now benefitting from this support. Elliot also met eye care professionals who have been delivering sight tests and glasses to the pupils, and advising parents and teachers on how to support children to make the best use of their vision.
Elliot said:   "I absolutely loved visiting Sherwood Park School to see for myself the incredible work that SeeAbility do to support those with learning disabilities or autism. This is a vital service and one that I hope will continue to be rolled out across special schools to ensure children with sight problems receive the support they need to fulfil their potential. Thank you to all the students and teachers for such a warm welcome and I look forward to visiting again in the future!"
Jessica Baldwin, Deputy Headteacher at Sherwood Park School said:   "The SeeAbility Eye Clinics have been such a beneficial service within our school. It has enabled our pupils to have their eyes tested by an optometrist who has expertise in working with children with a learning disability, in the familiar environment of school and with a familiar adult supporting them.
"Parents no longer need to take their children out of school during the day to have their appointments at hospitals or specialist clinics, which can be very disruptive and sometimes distressing for the pupil. SeeAbility have been able to dispense specialist lenses for our pupils which they have previously not been able to get from regular opticians. This has had such a significant impact on the pupil's learning as well as their wellbeing and communication. This service should be in every special school, as soon as possible."
Find out first hand from the Head of Eye Care and Vision at SeeAbility, Lisa Donaldson who be providing an Opchat News Key Note speech at 100% Optical  on the Saturday at 2.00 pm on the OSA stand. M230
The lecture is titled
"Takeaways for ECPs in examining, diagnosing and assisting those with learning difficulties & disabilities to improve outcomes for life  "