Danshari launches the new Capsule Collection entirely dedicated to women
"COUP DE FOUDRE ROUGE": A REAL MUST-HAVE!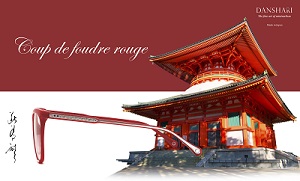 Whether it's love at first sight or a thoughtful choice, women always have a soft spot for accessories that make them feel unique, and in particular for eyewear.
For this reason Danshari – Made in Japan eyewear brand which takes inspiration from the Zen Minimalist Philosophy – decided to present Coup de foudre rouge, the new exclusive Capsule Collection entirely dedicated to the female world.
A very evocative name was chosen for this collection – in English: red love at first sight – which combines the idea of falling in love at first sight with absolute passion. Passion for a collection of frames that wants to amaze with the refinement of lines, materials and details, a collection that enhances the characteristics of elegance and refinement of a dynamic woman with a great personality.
Coup de foudre rouge is composed by 7 models, available in the 3 combinations of materials which characterise all Danshari collections: acetate, titanium and combined. The three shades of colour are: black acetate, havana acetate and red passion – to reflect the collection evocative name – matched with titanium and beta titanium in silver, gold, rose gold and bronze.
Coupe de foudre rouge was born from the same fundamental concepts: essentiality, minimalism and quality. This is why special attention was paid to the fitting and weight balancing of all models, so that their fit would be perfect, ergonomic and comfortable. The attention in the choice of materials can also be seen in every detail, such as the temple lamination carried out by Japanese artisans which combines acetate temples with a flexible core in beta titanium.
A capsule collection designed for demanding women who like to distinguish themselves with style!
More about Danshari
Danshari – eyewear brand Made in Japan funded by Giuseppe La Boria – made its debut on the market at the beginning of 2020 with an exclusive collection made of acetate and pure Japanese titanium. Danshari offers extremely light and flexible frames, with a refined and elegant design.
In line with the Zen Minimalist philosophy from which the brand takes inspiration, the collection was designed to offer the consumers timeless eyewear capable of satisfying their only true desire: the need for beauty, quality and essentiality.