100 million plastic bottles prevented from reaching Earth's oceans
CooperVision thanks ECPs for their help in making a significant global impact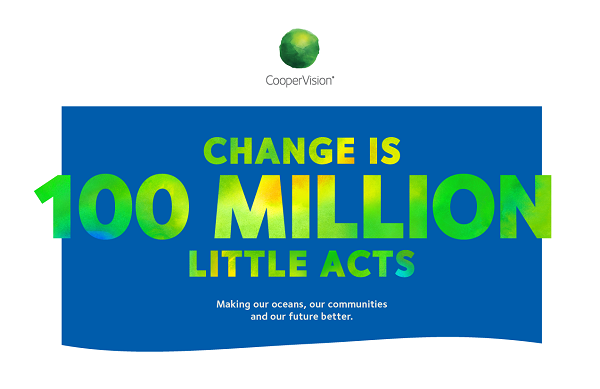 In partnership with eye care professionals, contact lens wearers, and Plastic Bank®, CooperVision announced today that its landmark plastic neutrality initiative has reached a significant milestone: the effort has prevented the equivalent of more than 100 million plastic bottles from entering the oceans.[1],[2]*†± Of these, over 23 million have been offset by eye care professionals and contact lens wearers in the UK & Ireland.
CooperVision pioneered the plastic neutral model for the contact lens industry in 2021 and has continued to expand the scope of the global initiative.[3]† It funds Plastic Bank's collection, processing and reuse of general ocean-bound plastic waste that is equal to the weight of the plastic contained in participating products across 27 countries throughout the Americas, Europe, and Asia-Pacific.
"We couldn't be more thankful to everyone who has helped this programme become an absolute success— the eye care professionals and wearers across the planet who share CooperVision's sustainability commitment.
Each plastic neutral contact lens that is prescribed and worn makes a difference," said Aldo Zucaro, Senior Director, Corporate Responsibility, CooperCompanies. "Together, we're making our oceans, our communities—and our future—better. We already have our sights set on the next 100 million."
Country Manager UK & Ireland at CooperVision, Doug Bairner, commented: "We're extremely proud of the contribution eye care professionals and contact lens wearers have made to this important initiative in the UK & Ireland. It really goes to show that small actions can make a massive difference when we all work together with a common purpose. We're excited to see what more we can achieve together over the years to come."
Beyond the positive impact on the environment, CooperVision's plastic neutrality initiative benefits collection community members in more than 350 coastal communities who receive bonus payments through Plastic Bank for necessities such as groceries, cooking fuel, school tuition, and health insurance.[4]
As a leading manufacturer of contact lenses, CooperVision is dedicated to reducing its environmental footprint, and its efforts extend beyond plastic neutrality. The company has a strong track record of sustainable manufacturing and operations focused on areas in which it can make the greatest impact. CooperVision has developed best-in-class manufacturing processes resulting in award-winning conservation efforts in Puerto Rico and prestigious sustainability certifications in Puerto Rico, Costa Rica, Spain, the UK, and the US.
---
Footnotes
[1] CVI data on file, 2022 for a complete list of participating brands by country. Total bottles as derived through Plastic Bank's impact dashboard through as of 12/31/2021.
[1] CVI data on file, 2022 for a complete list of participating brands by country. Anticipated total bottles as derived through Plastic Bank's impact dashboard during 2022 calendar year.
[1] CVI data on file, 2022.
[1] CVI data on file, 2022. Total communities impacted through Plastic Bank's impact dashboard as of 12/31/2022. https://plasticbank.com/faq/ethical-collection-communities 
 * Plastic Bank uses 1 kg of plastic to equal 50 bottles.
† Net Plastic Neutrality, in the contact lens industry, out of the top 4 global contact lens manufacturers. Plastic neutrality is established by purchasing credits from Plastic Bank. A credit represents the collection and conversion of one kilogram of plastic that may reach or be destined for waterways; collection locations are determined by Plastic Bank. CooperVision purchases credits equal to the weight of plastic in one-day contact lens product orders in a specified time period.  One-day contact lens product plastic is determined by the weight of plastic in the blister, the lens, and the secondary package, including laminates, adhesives, and auxiliary inputs (e.g. ink).
± Participating brand orders is defined as orders and includes sphere, 1 day toric, and multifocal product sold and distributed by CooperVision.