CONTEMPORARY 70S SERIES three new models from Tree Spectacles
A collection fusing classic and contemporary with a special palette of colours and ingenious designs as its main features. Created to celebrate the eclectic woman, the modern style of the new combination frames from TREE Spectacles has evolved from a chic and dynamic 1970s spirit.
Through combinations of titanium with acetate detailing, TREE expresses a minimal and modern interpretation of the 70s icons. The exciting shapes and stylish details play with thicknesses and contrasts, colour and pattern, proposing bold square eye shapes for Taide and Igea, and a statement rounded 'rectangle' for the elegant model Medusa.
Model Taide
– A sharp square eye shape with a defined acetate brow, model Taide combines the elegant titanium structure with a decorative striped acetate pattern. Colours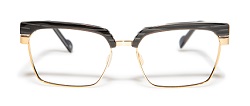 include Mediterranean blue/silver, black/gold, green/gold and dark grey/gold. Size 57-18-140.
Model Igea
– In Japanese titanium with acetate detailing, model Igea is a squareish optical shape for women in the new Contemporary 70s series.
The acetate has a mosaic-like pattern and comes in four colours of purple/aqua, brown/light gold, aubergine/lilac and black/light gold. Size: 56-18-140.
Model Medusa
– A statement rounded 'rectangular' shape with an elegant sweeping brow accent in acetate. The frame colours include trendy light brown/gold, blush/gold, aqua/silver and dark grey/gold. Size 55-19-140.