CHRISTMAS 2023 EYEWEAR Dressed in Red and Gold 
Immagine98 frames are the ideal accessory for holiday wear and as gifts
What better than attractive eyewear to make a great impression during the holidays? Some styles in the Immagine98 collections are perfect for the season. The only rule? A hint of red and gold, for those who love to be at the center of attention with a unique, signature style. Not only are they the ultimate holiday accessory, they also make great gifts. Out with the ties, sox and deer-embellished pullovers. Whether sunglasses or optical, eyewear are an original gift idea, to amaze and be amazing!
The inspired elegance of MIC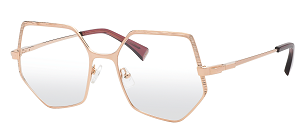 Gemma, ready to burst into bloom – as its name implies, is a tribute to lightness. Its unconventional hexagonal shape and colorful striated minimalist metal front are paired with ultra-lightweight metal temples. Shown here in the total look gold-plated version, with ocher temple tips. The result? Elegance con brio!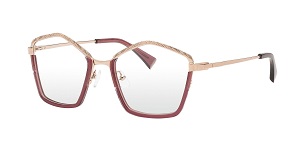 Bocciolo
embodies feminine style with pentagonal lenses highlighted by the use of two materials: scratched metal for the upper rim and acetate for the lower rim. The two parts blend beautifully thanks to an interplay of subtle shading.
The art&craft of Rye&Lye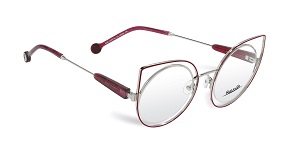 The most surprising? Chiffon by Rye&Lye
– in both optical and sun versions. A double frame embraces a round metal rim surrounded by a red-enameled cat-eye front. Cardinal red also sets off the acetate front portion of the temples and temple tips – creating an interplay of positive and negative space that lends lightness to the frame without subtracting any of its personality! This gaze-glamorizing style brings a flirtatious hint of allure, as the shape elongates upward, adding a bit of "feline" fascination. The overlapping lines are brightened by metallic overtones. Curvaceous contours bring a smile to the eyes and reflect a free-spirited artistic vibe.

Nemesi
is the personification of justice, arbiter of restraint and balance – and the corresponding style interprets these values: clean squared lines, the use of minimalist-minded materials, where the acetate and metal meet gracefully, without creating contrasts but as a continuum of finely crafted simplicity. Shown here in the version where vermilion is paired with a checkered pattern in the same color.
The artistic creativity of X-Ide
The brand, through flawless attention to detail and skillful craftsmanship, reinterprets its commitment to lend a tailored touch to its collections, pouring its passion and ongoing research into the use of materials and the creation of objects that are always innovative and unique. The red of cherries that ripen in May is the perfect color for spring-ready Matisse, an oversize optical frame with acetate front and slender gold-plated metal temples that lighten and, at the same time, embellish the frame.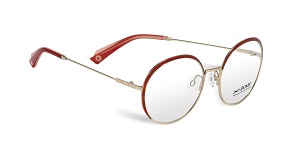 Lilla
is an oversize round frame, masterfully crafted with the top rim in a combination of metal and enamel, and acetate temples embellished with a rhinestone designed to illuminate the wearer's face, making this the ideal accessory for the classic woman who loves a touch of glamour.
The bold simplicity of I-Man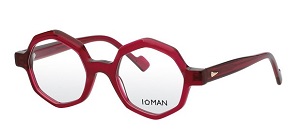 Thierry
is a distillation of irreverence and temperament. A rounded octagonal shape in acetate, available in four colorways that mix transparent effects with very vibrant hues. Shown here in rich vermilion red.
A masculine style with a unisex spirit, whose polygonal shape is expressed in striking bold acetate. Oliver has a distinctly '90s vibe with two-tone acetate, shown here in the holiday version with red above and transparent acetate below. A style choice for wearers who want a look with signature sophistication.
Unique styles that reflect different design approaches, perfect gifts to surprise loved ones and as accessories to light up anyone's holiday look!